Press release
New guidance to maintain quality of privately funded providers of higher education in the UK
New guidance for privately funded providers of higher education has been published by Universities and Science Minister David Willetts.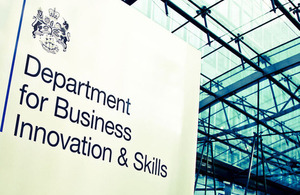 The guidance introduces a universal set of criteria that will be applied to all providers of higher education for the first time. It means that no provider will be able to apply to have new courses designated for student support until they have a successful and recent review from the Quality Assurances Agency (QAA).
Universities and Science Minister David Willetts said:
I want to encourage more competition and choice in higher education by allowing a wider range of providers, and having stronger incentives for a world class student experience.
It is important that students are protected and know that the provider they are studying with has passed the relevant quality checks. This new guidance will provide assurances to students and the taxpayer, and ensure that our reputation for world class higher education is upheld worldwide.
The new specific designation process gives assurances to government that providers with courses specifically designated for student support will operate in line with the budget for student finance in England. Students will also know that providers have been subject to independent, consistent and external quality assurance.
All providers will be subject to annual monitoring. If concerns are identified that a provider is not meeting the specific designation requirements then we will consider their designated status.
Notes to editors:
The new course designation guidance for alternative providers can be found at https://www.gov.uk/government/publications/alternative-providers-specific-course-designation-guidance-for-applicants.
2.The government's economic policy objective is to achieve 'strong, sustainable and balanced growth that is more evenly shared across the country and between industries'. It set four ambitions in the 'Plan for Growth' (PDF 1.7MB), published at Budget 2011:
to create the most competitive tax system in the G20
to make the UK the best place in Europe to start, finance and grow a business
to encourage investment and exports as a route to a more balanced economy
to create a more educated workforce that is the most flexible in Europe.
Work is underway across government to achieve these ambitions, including progress on more than 250 measures as part of the Growth Review. Developing an Industrial Strategy gives new impetus to this work by providing businesses, investors and the public with more clarity about the long-term direction in which the government wants the economy to travel.
Published 5 June 2013