New guidance for staff on reporting torture and mistreatment published
Foreign Secretary William Hague announced the update and reissue of the guidance for Foreign Office staff in a written statement on Parliament.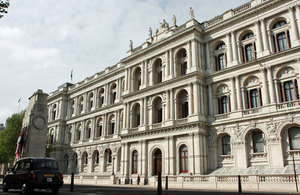 "I wish to make the House aware that I have updated and reissued guidance on reporting torture and mistreatment to all FCO staff, including contractors, secondees and temporary staff and staff from other government departments. I have made this guidance available to the public by publishing it on the FCO website.
The UK government's policy is clear. We do not participate in, solicit, encourage or condone the use of torture or cruel, inhuman or degrading treatment or punishment for any purpose. We have consistently made clear our absolute opposition to such behaviour and our determination to combat it wherever and whenever it occurs. We take all allegations and concerns about torture and cruel, inhuman or degrading treatment or punishment very seriously.
We are determined to strengthen the FCO's institutional capability on human rights at home and overseas. The updated guidance reiterates existing advice, setting out the process for FCO staff and other staff working in of Her Majesty's diplomatic missions and offices for reporting information about torture and mistreatment.
Timely, accurate, specific and full reporting is crucial in strengthening the government's work to eradicate torture and CIDT around the world. The FCO is committed to this work and staff already report cases, raise concerns and take action."
Published 22 March 2011