New guidance for businesses to report their sustainability credentials
Defra is consulting on guidelines to help businesses that want to demonstrate their corporate sustainability credentials do it in a clear and concise way.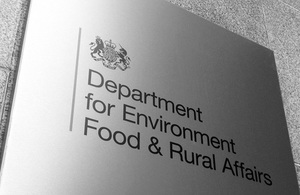 UK businesses will find it simpler and easier to demonstrate their sustainability performance to the public and investors under new guidance proposed by Environment Minister Lord Taylor of Holbeach today.
For the first time, guidance includes detailed advice on how firms can measure and report on their impact on wildlife and natural services such as clean air, clean water, food, timber, flood protection and welfare benefits.
Environment Minister Lord Taylor of Holbeach said:
"British firms are world leaders in understanding that improving the sustainability and resilience of their whole business is not only good for the environment but good for the bottom line too. This new guidance is another step towards our aim of corporate sustainability reporting becoming normal business practice by making it as simple as possible for companies to show their environmental impact."
The proposed guidance will help companies to see where they can make savings in their business model. It will also help meet the increased interest from investors in environmental information that is relevant to investment decisions.
The guidance builds on the agreement at Rio+20 where British firms and Government helped secure international support to encourage businesses to include sustainability information in their annual reporting.
Lord Taylor of Holbeach also today announced further details on the new regulation announced at Rio+20 requiring all quoted companies to report their greenhouse gas emissions. A draft of the regulation has been published to update businesses on what will be required of them from April 2013.
Notes
The consultations on new guidance for corporate sustainability reporting and the regulation on reporting of greenhouse gas emissions are available here http://www.defra.gov.uk/environment/economy/business-efficiency/reporting
The proposed guidance shows businesses how they can measure and report on their performance in five areas - air quality and emissions, water, biodiversity and ecosystem services, natural materials and waste.
A quoted company is one that is UK incorporated and is listed on the main market of the London Stock Exchange.
Published 25 July 2012