Press release
New funding to support flood-affected communities
Communities Secretary Greg Clark outlines the government support that will be available to areas affected by the weekend's floods.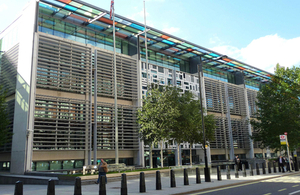 The weekend saw large parts of Cumbria, Lancashire and Northumberland flooded in the wake of Storm Desmond, with rivers across the area reaching record levels.
As councils start their clean-up operation Mr Clark confirmed that the Bellwin scheme would be opened, so councils can apply to have 100% of their costs above threshold reimbursed.
Communities Secretary Greg Clark said:
The effects of Storm Desmond will be devastating to communities and families whose homes have been flooded – with many suffering this for the second, or even third, time in the last decade.

We're determined to stand squarely behind affected communities for the long haul, to help them get back on their feet and into their homes as quickly as possible.

That's why today we're taking the first step on the road to recovery by offering support through the Bellwin scheme so councils starting the clean-up operation can be confident that they will get the support they need.
Support for flood-affected areas
The Bellwin scheme enables councils to get financial assistance in the wake of exceptional events, such as flooding.
This is in addition to record government investment in flood defences, with a clear commitment to build 1,400 more flood defences and protect 300,000 more homes from flooding across the country.
Further information
The Bellwin scheme compensates authorities for the exceptional costs incurred in incidents such as flooding. Authorities are eligible for costs under Bellwin when they have spent more than 0.2% of their calculated annual revenue budgets on works.
Eligible authorities include:
councils
police authorities
fire and rescue authorities
National Park authorities
Office address and general enquiries
2 Marsham Street
London
SW1P 4DF
Contact form http://forms.communiti...
General enquiries: please use this number if you are a member of the public 030 3444 0000
Published 8 December 2015