Press release
New funding to create state of the art facilities at two colleges
Two further education colleges will receive new government funding in a multi-million pound revamp of their campuses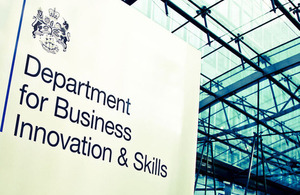 51 colleges across the country could also benefit from new funding.
Two further education colleges will receive new government funding to help create modern teaching facilities in a multi-million pound revamp of their campuses, Skills Minister Matthew Hancock announced today.
Barnsley College, Yorkshire and Brooksby Melton College, Leicestershire will get shares of more than £13 million to invest in projects that will boost skills in the construction and automotive sector.
The two successful colleges made applications through the new College Capital Investment Fund (CCIF). As many as 50 more colleges have applied through this framework, which will enable the improvement of facilities throughout the country.
The government has invested over £400 million, enabling over £1.2 billion of total project investment in new college facilities since May 2010 targeting those in the greatest need of help and those that can support growth in the economy.
Barnsley College will receive £3.6 million in funds from the government, which will go toward the construction of a £10.8 million construction centre. Brooksby Melton will receive £10.8 million allowing them to begin a £13 million relocation of its motor vehicle engineering campus.
Skills Minister Matthew Hancock made the announcement on a visit to the Midlands. He said:
If we are to succeed in the global race and help learners to reach their full potential we need to provide state of the art classrooms and modern equipment.
The government is committed to improving the facilities available to learners to ensure Britain has a highly skilled workforce being given the best opportunities to acquire new skills. These investments will not only benefit learners, but also the local communities, and the local economy.
The Minister is visiting the Midlands to see the range of further education facilities on offer to learners throughout the region and work being done to attract people to undertake an apprenticeship.
He will open the Halesowen & Rowley Regis Apprenticeship and Skills Fair. More than 20 businesses including Jaguar Land Rover, Sandvik and Hadley Group will be at the event, which runs from 10am until 3pm on Friday 3 May.
After the fair the Minister will visit Sandwell College and meet learners. He will also visit Burton and South Derbyshire College, and its training partner St George's Park – the new home of English football – where he will see apprentices put through their paces.
Notes to editors
1.In December 2012, the government published the new FE Capital Investment Strategy which set out the case for investing £550 million in college estate improvements through until March 2015:
800,000 learners in England are currently learning in sub-standard buildings
Every £1 million of capital expenditure increases participation by between approximately 62 and 86 learners per year
A £5 million college refurbishment project could typically employ around 60 people and could increase to as much as 600 jobs for a £20 million college relocation project
Annual maintenance costs for the worst colleges are 34 per cent higher than the best.
2.The government's economic policy objective is to achieve 'strong, sustainable and balanced growth that is more evenly shared across the country and between industries'. It set four ambitions in the 'Plan for Growth' (PDF 1.7MB), published at Budget 2011:
to create the most competitive tax system in the G20
to make the UK the best place in Europe to start, finance and grow a business
to encourage investment and exports as a route to a more balanced economy
to create a more educated workforce that is the most flexible in Europe.
Work is underway across government to achieve these ambitions, including progress on more than 250 measures as part of the Growth Review. Developing an Industrial Strategy gives new impetus to this work by providing businesses, investors and the public with more clarity about the long-term direction in which the government wants the economy to travel.
3.The £550 million of Further Education capital investment will be made available over two years, 2013-14 and 2014-15, to target those colleges in the greatest need of help and to support growth in the economy.
Published 3 May 2013