News story
New fund to help disabled people become MPs
A £2.6 million fund designed to help disabled people overcome barriers to becoming councillors, Police and Crime Commissioners or MPs was launched by the Government today.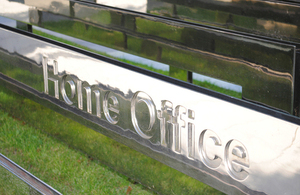 The money will help meet the additional costs a disabled candidate may face in standing for election, such as extra transport or sign-language interpreters.
Equalities Minister Lynne Featherstone said:
'The ten million disabled people in the UK are under-represented in public life and today we are making an important step towards levelling the playing field.
'This is about breaking down the physical, financial and cultural barriers that prevent many talented people from playing their part in political life.
'Encouraging disabled people to make their voices heard will not only help individuals fulfil their potential but will enrich and improve our politics at local and national level.'
The new support will first apply to the election of Police and Crime Commissioners in November this year.
Lynne Featherstone added:
'The arrival of Police and Crime Commissioners in November will be the most significant democratic reform of policing in our lifetime. I hope this fund will enable more disabled candidates to come forward and hold the police to account."
In addition to the fund, a new online training and development package went live today, tailored to disabled people who are interested in a political career.
The fund and online training are part of the Government's Access to elected office strategy which also includes paid internships for disabled candidates on the speaker's parliamentary placement scheme.
Maria Miller, Minister for Disabled People said:
'Sadly some people still hold outdated views that disability - whether it's physical or mental - isn't compatible with elected office. If this misguided idea is left unchallenged, it means a huge amount of talent remains untapped and a huge amount of potential goes unfulfilled.
'That is why Access to elected office is so important. Disabled people have a wealth of first hand experience of what works and what doesn't work in the delivery of services. They have experience of what support disabled people really need and experience of how best to give disabled people a voice.
'And it is just this kind of first hand experience which is invaluable in elected office, whether it's at a local level in local authorities, on policing boards, or at a national level in parliament."
Alice Maynard, Chair of disability charity Scope said:
'Disabled people face huge extra costs in everyday life as a result of their impairment and these extra costs can be amplified for those who want to run for elected office meaning they are woefully under-represented.
'We are therefore delighted that the government has launched the access to elected office fund which we believe marks an important step forward in increasing disabled people's visibility and participation in society.
'Yet for Scope, the launch of this fund marks the beginning of the journey to tackle the barriers disabled people face and give the confidence they need to stand for office, rather than the end. 
'The key challenge facing all candidate offices across local authorities and political parties is how we can use this fund to attract more disabled candidates and diversify the often 'closed' world of local and national politics." 
The Strategy was developed following a consultation in May last year, which sought views on a range of measures designed to help disabled people overcome the barriers to getting elected. In developing this package, the government has worked closely with political parties, disability organisations and wider equality groups.
NOTES TO EDITORS
The access to elected office strategy was developed by the Home Office in partnership with the Cabinet Office and the Department for Work and Pensions.
The financial support will apply to candidates who are applying to the following list of elections and by-elections; UK westminster elections, English local elections, greater london authority elections, english mayoral elections and Police and Crime Commissioners.
 Local and national elections to devolved administrations will not be covered. 
 The fund will be open for applications until the end of March 2014.
The fund will be independently administered by Digital Outreach Ltd (Convey), who is legally entitled to award money to prospective candidates as they are permissible donors.
The fund will offer individual grants of between £250 and £10,000 to disabled people who want to be selected as candidates for an election, or who are standing for election.
Published 9 July 2012