Press release
New framework puts disability at heart of UK's international development
New Disability Framework published today.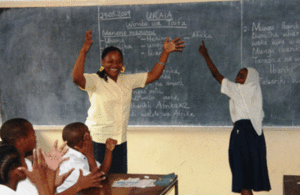 Tackling discrimination against people with disabilities in developing countries will be a core part of the UK's fight against extreme poverty, International Development Minister Baroness Northover announced today.
The Department for International Development's (DFID) first Disability Framework, published today, formally sets out how the UK will ensure that programmes and policies are inclusive of, and accessible to, people with disabilities. It outlines the actions DFID will take over the next 12 months to strengthen support for people with disabilities. Key focuses of the framework are:
Building the capability of staff to understand the issues so they can drive change;
Strengthening disability inclusion across DFID's programme work, including humanitarian relief, water and sanitation facilities and preventing violence against women and girls with disabilities;
Improving the engagement and participation of people with disabilities in policy and programming, so that they are included in making decisions that affect their lives;
Influencing the organisations DFID funds to include people with disabilities more effectively in their work; and
Enhancing organisational capacity in terms of staffing numbers and senior leadership.
Baroness Northover said:
One in seven people across the globe has a disability. They are some of the poorest and most neglected in the world. Much more needs to be done by the international development community to give people with a disability equal access to education, employment, healthcare, social support and the justice system.

Our Disability Framework is an important milestone in the UK's commitment to international disability programming and our work to drive disability up the development agenda. Only by reaching people with disabilities will we be able to leave no one behind and end extreme poverty. That is what this framework sets out to do.
Lucy Drescher, Ray Lang and Tim Wainwright, co-chairs BOND Disability and Development Group (DDG), said:
We welcome this framework. It sets out how DFID will be including the 800 million persons with disabilities living in developing countries and ensuring that they benefit from UK Aid. This includes areas like education, water, sanitation and response to humanitarian crises. Persons with disabilities will be involved throughout, and DFID will build their own staff's knowledge and improve the evidence base with better research and disaggregated data. We applaud the commitment to annual reviews to check on progress.

We will do all we can to support DFID in implementing this ambitious agenda which will take the quality of UK Aid to a new level by ensuring it reaches some of the poorest of the poor. We call on all those who work in the international development sector to follow DFID's lead in ensuring that persons with disabilities are properly included and benefit from all aid programmes.
The Disability Framework will be reviewed and published annually in consultation with disability stakeholders.
General media queries
Follow the DFID Media office on Twitter - @DFID_Press
Published 3 December 2014