New Foxhound vehicle on display in the UK
The British Army's new Foxhound vehicle has been unveiled for the first time since its arrival in Afghanistan.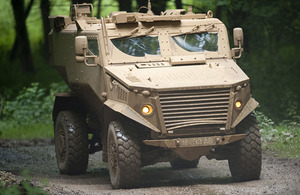 Hundreds of people involved in equipment and support for the UK's Land Forces have flocked to the Defence Vehicle Dynamics (DVD) Exhibition at Millbrook in Bedfordshire, the largest of its kind in Europe.
The Army took advantage of the audience to display Foxhound, the first vehicle to enter service using an 'open systems' approach.
This approach means so-called 'off-the-shelf' upgrades are easier and that there will be greater uniformity with other new technologies and vehicles - future-proofing the Army's core capabilities.
The MOD has committed £270m for 300 Foxhound vehicles with General Dynamics Land Systems - Force Protection Europe, which will sustain around 750 UK jobs.
Foxhound's V-shaped hull helps it withstand explosions and provides unprecedented levels of blast protection for its size and weight. It is light and agile and designed to move freely around the narrow alleyways, tracks, bridges and culverts of Afghanistan.
The second tranche of this British-designed-and-built vehicle is part of a £5.5bn investment in the Army's core armoured vehicle programme over the next ten years. A total of £160bn will be spent on equipment and equipment support over the next decade.
Minister for Defence Equipment, Support and Technology Peter Luff attended the Foxhound unveiling. He said:
Foxhound is a great example of what can be achieved through the MOD and industry working closely together. I want to maximise the extent to which industry uses an open systems approach both domestically and in the global market, enabling us to buy off-the-shelf as far as possible.
Now that we have balanced the books, we can with confidence move forward to plan and deliver an armoured vehicle programme worth £5.5bn over the next decade, which will deliver a fleet of state-of-the-art, high-tech and easily deployable fighting vehicles.
Major General Carew Wilks, Director Land Equipment in the MOD Defence Equipment and Support organisation, said:
As well as showcasing current and future land equipment, DVD 2012 has given us a chance to work with our manufacturers and suppliers to see how we can improve our procurement processes by ensuring our equipment systems are easily connected with those of other suppliers. Such an approach allows us to quickly add, change or update sub-systems as needed.
Foxhound is the first vehicle to enter service taking account of our new generic vehicle architecture standards, so I'm pleased to see it here at DVD giving visitors a tangible idea of how systems integration works.
DVD is one of the most important events in the defence diary for those involved in equipment and support for the UK's Land Forces and is Defence Equipment and Support's annual stakeholder event. It brings together the acquisition community, military personnel and industry organisations for two days of informal discussion and briefings.
Published 21 June 2012