New Forces news website goes live
A brand new hub for Forces news, the British Forces News website, went live on Tuesday 2 August 2010.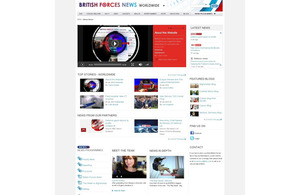 British Forces news is on the hour on British Forces Broadcasting Service (BFBS) Radio, and has a flagship half-hour news magazine on BFBS TV every weeknight.
But now you can access the stories at any time on the British Forces News website.
News stories will be posted throughout the day so you can go to the website at any time to get up-to-date Forces news.
Alan Rook, Head of News at BFBS, said:
The new website is a fantastic portal for all Defence news. As well as our own news-gathering, we aim to be an important hub for information and news about all three Services, and local community news at garrison, airbase and dockyard level.
British Forces News online will be rich in video and audio, and has the scope to host longer-form versions of interviews, podcasts, and useful links to further information.
BFBS has tri-medial reporters, who can file for radio, TV and now online, based in eight countries around the Forces world, including the UK, the Falklands, Germany, Cyprus, Gibraltar and Afghanistan.
In fact, BFBS is the only broadcaster with video-journalists permanently based in Helmand province. And, of course, they report from Her Majesty's ships at sea, from exercises, and anywhere British Forces are operating.
Nick Pollard, Chief Executive of Services Sound & Vision Corporation, said:
The new website gives us even more opportunity to get news and information about the Forces out there. Not just to our Forces audience, but to the wider community of veterans, families, Forces' charities, and the general public.
Alan Rook added:
It's important that the new website will also be a place where people can take part, alert us to stories in their area, and participate. They could start by giving us feedback on the site!
Published 4 August 2010