Press release
New footbridge opens on A38 at Carkeel
A new footbridge over the A38 at Carkeel roundabout in Cornwall was officially opened today (August 10) giving walkers safe access over the road.
This news article was withdrawn on
This press release is no longer current.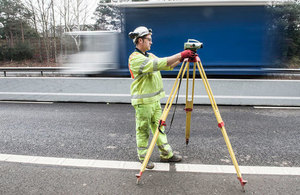 The bridge has been constructed on the Plymouth side of the roundabout and will let people walk between Saltash and Tamar industrial and retail estate. It was officially opened at a ceremony attended by the local community and Sheryl Murray MP.
Before the scheme opened pedestrians had to cross the busy A38 to get to nearby employment, leisure and retail areas. The footbridge provides a safe means of access to those locations without having an adverse impact on the traffic on the A38.
Around 24 tonnes of reinforcement steel, 2610 tonnes of aggregate and 500 litres of paint were used during construction of the bridge, which weighs 66 tonnes in total.
Project sponsor Alexis Field:
We are delighted to be able to open this new footbridge which provides a safe pedestrian link over the A38 and will be of great benefit to the local community.

The benefits of the scheme are already clear to see with numerous people using the bridge and making a much safer journey across the A38.
The bridge was constructed as part of a £3.2 million package of works at Carkeel roundabout, which included improvements to the westbound approach and exit at the roundabout.
These improvements will increase traffic flows and reduce overall queue lengths at the roundabout. The provision of an additional lane on the approach to the roundabout will provide additional capacity.
They will also achieve wider benefits in supporting growth in the surrounding area, such as development at Carkeel and Saltash.
Roads Minister Andrew Jones said:
The new footbridge is a vital part of improvements on this section of the A38 in Cornwall. This footbridge will make journeys better for local people ensuring they have easy access to jobs, shops and leisure facilities nearby.

The improvements to the A38 forms part of our long-term economic plan to ensure that every part of Britain benefits from a growing economy. We are investing more than £15 billion over the next five years to improve motorways and major A roads across England.
Alexis Field added:
This has been a significant scheme and we are very grateful to our customers and the local community for their patience while we completed the work.

Now we hope everyone will be able to enjoy the benefits these improvements should bring.
General enquiries
Members of the public should contact the Highways England customer contact centre on 0300 123 5000.
Media enquiries
Journalists should contact the Highways England press office on 0844 693 1448 and use the menu to speak to the most appropriate press officer.
Published 11 August 2015