New focus on family planning
Have your say on DFID's new approach to family planning and women's health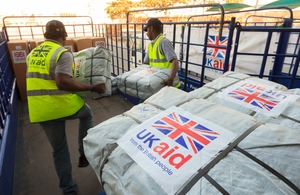 New focus on family planning to reduce deaths in pregnancy and childbirth
The UK Government is to put family planning at the heart of its approach to women's health in the developing world in an attempt to reduce the persistently high number of women who die in pregnancy and childbirth, Andrew Mitchell announced today.
The new approach will see a significant increase in the availability of family planning to meet the demands of some of the world's poorest women.
There are currently 215m women in the developing world who would like to delay or avoid their next pregnancy, but do not have access to modern family planning methods.  Increasing access could prevent up to 30 per cent of all maternal deaths and 20 per cent of newborn deaths.
This approach - including tackling head-on the unmet need for family planning - marks a significant shift in the UK's approach to addressing the most off-track Millennium Development Goal: to improve maternal health.
Public consultation on reproductive, maternal and newborn health
Speaking at the launch of a wide ranging public consultation, Choice for women - wanted pregnancies, safe births, which will seek the views of development experts, health professionals and the public on the proposed direction of the DFID's policy, Andrew Mitchell said:
It is clear why reproductive and maternal health is the most off-track of all the Millennium Development Goals. The international community has failed to assist millions of women by ignoring the complexities of why at least a third of a million women in the world's poorest countries die during pregnancy and childbirth each year. For too long we've been trying to tackle the issue with one hand tied behind our backs.

DFID will now have an unprecedented focus on family planning, which will be hard-wired into all our country programmes.
DFID's new consultation on reproductive, maternal and newborn health highlights a range of issues including family planning, adolescent fertility, unsafe abortion, antenatal care, and skilled care at delivery. Failure to address these issues contributes to up to 1,000 women dying needlessly in pregnancy and childbirth every day.
Published 27 July 2010