Press release
New fish survey reveals good results in Broads
With the new coarse fishing season anglers are encouraged to buy a rod licence and explore excellent fishing in the beautiful Broads.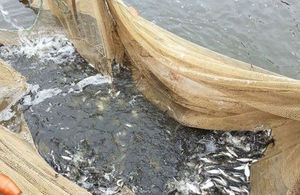 In March and April this year, the Environment Agency's fisheries staff led one of the largest rescue operations in its history to save more than 700,000 fish from a small area of the Broads in Norfolk (Hickling Broads and Upper Thurne). The fish had become trapped at the end of dykes while trying to escape from a deadly bloom of Prymnesium algae.
See video here: https://www.youtube.com/watch?v=GfYwGMJIGg8
Fisheries teams recently returned to the area to carry out a fish stock survey and the results were positive, with numbers of various species detected.
The Agency's Fisheries Technical Specialist for Essex, Norfolk and Suffolk, Steve Lane, said:
Following the incident, we carried out a specialised high resolution sonar survey to see what fish are still present in the area. Our initial results show that there are still good numbers of fish with large bream, roach and pike seen spread over the area that was affected.

We encourage people to buy a rod licence and enjoy the new season.

We are continuing to work closely with all parties – the local angling community, research institutes, Broads Authority, Natural England and Internal Drainage Boards, to better understand the long term issues associated with Prymnesium and protect fishing for the future.
The rest of the Norfolk Broads were unaffected by the Prymnesium incidents. Surveys and fishing results from the last few seasons have shown the Broads are able to offer superb angling opportunities for local and visiting anglers alike.
Anglers can find Broads venue guides, tips, news and all relevant Broads related information on the Broads Angling Strategy Group website http://www.basgonline.org
Notes for editors:
Pictures and videos of the rescue, and teams using specialised technology for the survey, are available on request.
Read a blog by fisheries expert on our largest ever fish rescue at https://environmentagency.blog.gov.uk/2015/06/09/from-a-phone-call-to-a-fish-rescue/
If you think you've seen fish in distress or want to report an environmental incident call 0800 80 70 60.
More on rod licences and how to buy one here https://www.gov.uk/buy-a-uk-fishing-rod-licence or direct from the Post Office at http://www.postoffice.co.uk/rod-fishing-licence
Anglers can also buy a rod licence by calling the Post Office on 0344 800 5386 or by visiting any Post Office branch. Alternatively, you can buy your licence through the Angling Trust's mobile-configured website http://www.fishinginfo.co.uk Whether at home or on the move, anglers can use this new website to get details of thousands of fisheries, tackle shops, clubs and coaches, plus all the latest angling weather and river levels.
Published 17 June 2015
Last updated 19 June 2015
+ show all updates
Extra paragraph added
Adding video link and photo
First published.