Press release
New figures show more than £84 million awarded in compensation through Diffuse Mesothelioma Payment Scheme
More than £84 million in compensation has been awarded as part of the Diffuse Mesothelioma Payment Scheme.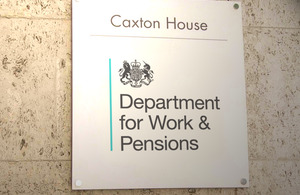 More than £84 million in compensation has been awarded to sufferers, or the families of those who have died, as part of the Diffuse Mesothelioma Payment Scheme (DMPS), according to official statistics released today (31 January 2017).
Diffuse mesothelioma, a cancer linked to asbestos exposure, caused the death of 2,515 people in Great Britain in 2014, according to Health and Safety Executive figures. The disease is usually fatal, and most patients die within 12 months of their diagnosis.
The deadline to apply to the scheme is 3 years from diagnosis. For those applicants diagnosed between 25 July 2012 and 5 April 2014, the deadline is 5 April 2017.
Penny Mordaunt, the Minister for Disabled People, Health and Work, said:
It is absolutely right that the government steps in to help people who cannot get the compensation they deserve from their former employers. I want to ensure all who might benefit from this scheme are aware of it.
Those most at risk of developing mesothelioma include men who worked in the building industry when asbestos was used extensively. Symptoms vary and it can take up to 20 to 40 years after exposure for symptoms that allow doctors to diagnose the disease to appear.
The DMPS is a scheme of last resort for people with the disease who were negligently exposed to asbestos at work, but who are unable to trace their employer or their employer's insurer to seek compensation.
The average lump sum payment made through the scheme in the 6 months between April and September 2016 was around £141,000, up from £135,000 in 2015/16. The scheme is funded by a levy on the Employers' Liability Compulsory Insurance industry, set this year at £40.4 million.
First deadline to apply for a payment
5 April 2017
More information
Sufferers of mesothelioma who think they may be eligible for a payment should go to GOV.UK or mesoscheme.org.uk for more information.
Contact Press Office
Media enquiries for this press release – 020 3267 5126
Press Office
Caxton House
Tothill Street
London
SW1H 9NA
London Press Office (national media and London area enquiries only – not questions about personal claims) 020 3267 5144
Out-of-hours (journalists only) 07623 928 975
England and Wales (local media enquiries) 029 20 586 then 097 or 098 or 099
Scotland (local media enquiries) 0131 310 1122
Follow DWP on:
Published 31 January 2017