Press release
New fee change consultation launched
VOSA is consulting on proposed fee changes for some of its services.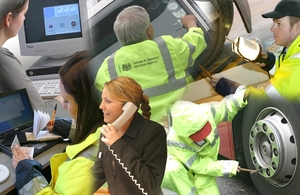 VOSA is today launching a consultation on proposals to change some fees for a range of services it carries out.
This includes fees for:
HGV and PSV testing, operator licensing and associated services
approval and certification of various vehicles
vehicle identity checks (VIC) on written-off cars seeking re-licensing
tachograph calibrator approval
The proposed changes to fees for statutory services aim to create fairer fees by:
removing the remaining cross subsidy of VOSA test facility costs from users of Authorised Testing Facilities (ATFs)
charging the cost of extra VOSA resource to service ATFs to users
meet additional running costs of interconnection throughout the EU of national registers of operators and their transport managers and more active monitoring of those committing most serious infringements as required by EU regulations
ensure the financial sustainability of VOSA
The consultation also includes a proposal on fees for Reduced Pollution Certificate (RPC) inspections carried out by the Driver and Vehicle Agency in Northern Ireland and an increase to charges for voluntary services provided by VOSA.
The largest changes result in re-distributing costs between those using VOSA test facilities and ATFs.
VOSA Chief Executive Alastair Peoples said:
After 4 years with no general fee increases, VOSA will continue to absorb most costs and keep general rises to a minimal one percent.

This is good news for our customers as the increase is far below inflation.

I am also pleased to be able to propose a fairer allocation of costs between customers having their vehicles tested at ATFs and VOSA test stations. I am keen to hear the views from customers on our proposals.
The full consultation, which is open from today until 11 June 2013 online at Fees for HGV and PSV testing, operator licensing, other VOSA services and some DVA services
Notes to editors
VOSA is responsible for:
processing applications for licences to operate lorries and buses and registering bus services
operating and administering testing schemes for all vehicles, including the supervision of the MOT testing scheme
enforcing the law on vehicles to ensure that they comply with legal standards and regulations
enforcing drivers' hours and licensing requirements
supporting Traffic Commissioners to help them make informed decisions on operator licensing, vocational drivers and bus registration requirements
providing training and advice for commercial operators
investigating vehicle accidents, defects and recalls
VOSA media enquiries
You should contact our press office if you have a media query or you're a journalist.
Published 30 April 2013