New feathers for new Scottish troops
Scottish Army recruits who marched off the square at their passing out parade this weekend to thunderous applause from family and friends will also be receiving a brand new piece of uniform.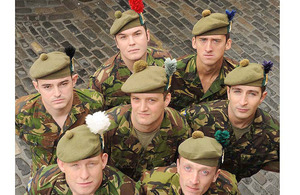 The 152 Territorials, all drawn from units throughout Scotland, have spent the last seven weeks on Exercise Summer Challenge, a full-time course which fast-tracks them to become fully-fledged soldiers.
They passed out at Cameron Barracks in Inverness on Saturday 7 August 2010 and the majority of them will go on to join the Territorial 6th and 7th battalions of The Royal Regiment of Scotland (6 SCOTS and 7 SCOTS).
These two battalions also received last week their own new feather hackles for their Tam o' Shanters which identify them as individual battalions of the regiment.
In the past the Territorials wore the hackle of their nearest regular battalion.
6 SCOTS received grey hackles, while 7 SCOTS now sport purple hackles.
The hackles are the newest piece of uniform that The Royal Regiment of Scotland has been granted since it was formed in 2006.
The grey and purple hackles were unveiled at the regiment's headquarters in Edinburgh Castle last Friday.
Hackles are a very important part of a unit's identity. Some of them were granted as battle honours to soldiers in battle in their antecedent regiments' history and they embody a soldier's particular allegiance to a battalion.
Lieutenant General Andrew Graham, Colonel of the Regiment and its most senior member, said of the new headdress:
In all that we do we strive to carry forward the more than 2,500 cumulative years of proud and courageous fighting tradition and exemplary service of our antecedent regiments.
We are determined to act as a regiment of seven battalions and we will not treat our TA battalions, who are making such a strong contribution to the regiment, on and off operations, as 'afterthoughts'.
The Territorial Army (TA) members of the regiment asked for their respective battalion identities to be marked by a unique hackle.
Lieutenant Colonel Charlie Platt, Commanding Officer of 6 SCOTS, said:
The introduction of a grey hackle is about reinforcing battalion identity and as such it is a very positive development for 6 SCOTS.
The colour is not important and deliberately bears no historical or antecedent significance; what is important is that the battalion now has its own colour that its members can be proud to wear.
The Commanding Officer of 7 SCOTS, Lieutenant Colonel Ed Chelsea, said:
The introduction and wearing of the purple hackle gives 7 SCOTS its own separate identity, recognising the battalion as an entity in its own right, rather than being made up of different parts.
Being the only TA infantry battalion in the Highlands of Scotland, and providing continual support to overseas operations, it is only fitting that we are so recognised. We will wear the new purple hackle with pride.
Published 9 August 2010