Press release
New FE Commissioner to tackle poor performing FE colleges
Skills and Enterprise Minister Matthew Hancock announces that Dr David Collins CBE will take the new post of Further Education Commissioner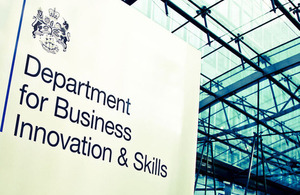 Dr David Collins CBE will take the new post of Further Education (FE) Commissioner, responsible for driving improvement and acting quickly to tackle failing colleges, Skills and Enterprise Minister Matthew Hancock announced today (14 November 2013).
The FE commissioner, the former principal of South Cheshire College Group, will play an integral part in the government's plans to create a rigorous and responsive system that delivers the best for learners, employers and the economy.
Dr Collins will advise ministers and the funding agencies on the actions that need to be taken to swiftly tackle poor performance in FE colleges. He will review the position of any college:
which has been graded as 'inadequate' by Ofsted
fails to meet national minimum standards of performance set by the department
receives an inadequate assessment for financial health or management by the Skills Funding Agency
Skills and Enterprise Minister Matthew Hancock said:
While there is much to praise in the FE sector, we must drive up standards across the board, and particularly focus on colleges that fail. The FE Commissioner will help us to ensure that wherever a college or institution is failing students swift, co-ordinated and decisive intervention action will be taken.

David's 35 years of experience, including leading an outstanding college, mean that he fully understands the sector and the levels of excellence that can be achieved. I look forward to working with David to reach our shared goal of a further education system that offers rigorous and stretching training while responding to the needs of students, employers and the economy.
Dr David Collins, FE Commissioner said:
I would hope to bring my extensive experience in the sector to bear in this new post so that problems in colleges and other institutions are swiftly addressed for the benefit of learners, employers and the local community.

I have worked closely with governors and staff in the past in colleges and institutions that have received a variety of Ofsted grades and have always found a positive response to quality improvement. I am sure that all those involved in this new approach will play their full part in ensuring that, in the interests particularly of learners and stakeholders, difficulties are quickly and effectively resolved and the quality of provision is significantly improved.
The government intends to ensure that anyone choosing to study at a college can benefit from world class education and training. The new FE Commissioner role will ensure that whenever a college or institutions falls short of delivering high quality provision, improvement can be made swiftly so that learners get the education and training that they deserve.
The role of the FE Commissioner is set out in Rigour and Responsiveness in Skills (April 2013). He will provide advice to ministers and the chief executives of the funding agencies on the action necessary to secure swift improvement.
He can call on the support of the FE Advisers, who bring with them a range of skills and expertise in financial recovery, change management and curriculum design.
Notes to editors.
Dr Collins brings more than 35 years experience in further education to this new position. He took his first post as principal in 1993, running the highly successful South Cheshire College for 16 years. He has also taken on national positions as President of the Association of Colleges (AoC) and Interim Chief Executive of the Learning and Skills Improvement Service (LSIS). Most recently he was Interim Principal of the Guildford College Group.

The commissioner appointment was made following a competitive recruitment process, involving a sift, preliminary interview and a robust assessment process, an interview with senior representatives from BIS, DfE, Ofsted and the Association of Colleges, and a meeting with Minister Hancock. The FE Commissioner will be a BIS contractor, on a 2 year fixed term contract.

The FE Commissioner can call on the support of the FE Advisers. There are 5 FE Advisers: David Williams, Malcolm Cooper, Lynn Forester-Walker, Joanna Gaukroger and Marilyn Hawkins. The FE Advisers were appointed following an earlier recruitment process, through the National College for Teaching and Leaderships' Operational Associates Framework. The FE Advisers are BIS contractors, on a 2 year fixed term contract.

The strengthened approach, including the role of the FE Commissioner, will apply to FE Corporations, designated institutions and local authority maintained FE institutions. Local authority maintained FE institutions are currently subject to a different statutory intervention process, but through the Deregulation Bill, which was published as a draft Bill on 1 July 2013, we are proposing to align their intervention process with that of FE Corporations and designated institutions.

When a sixth form college (SFC) meets the same criteria for intervention the same suite of potential actions will be considered. Intervention in individual SFC cases will continue to be managed by the Education Funding Agency (EFA), reporting to ministers. The EFA will work with the Skills Funding Agency and consult with DfE and BIS, and if appropriate the FE Commissioner, where adult provision is also concerned.

Independent training providers funded through a contract for services with the Agency will continue to follow the assessment, escalation and intervention process set out in the contract, which would usually result in termination of contracts where performance fails.

The government's economic policy objective is to achieve 'strong, sustainable and balanced growth that is more evenly shared across the country and between industries'. It set 4 ambitions in the 'Plan for Growth', published at Budget 2011:
to create the most competitive tax system in the G20
to make the UK the best place in Europe to start, finance and grow a business
to encourage investment and exports as a route to a more balanced economy
to create a more educated workforce that is the most flexible in Europe
Work is underway across government to achieve these ambitions, including progress on more than 250 measures as part of the Growth Review. Developing an Industrial Strategy gives new impetus to this work by providing businesses, investors and the public with more clarity about the long-term direction in which the government wants the economy to travel.
Published 14 November 2013