New fanfare to trumpet in royal marriage
A new piece of music has been written by an RAF officer especially for the wedding next week of His Royal Highness Prince William of Wales and Miss Catherine Middleton.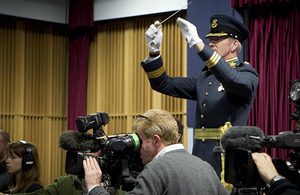 One of the first sounds that the royal newly-weds will hear as a married couple will be a fanfare fit for royalty.
When Prince William and Catherine Middleton sign the register in Westminster Abbey, trumpeters from the Central Band of the RAF will herald the moment by performing a special fanfare written by Wing Commander Duncan Stubbs.
For now, it is being kept secret, but the 30-second piece titled 'Valiant and Brave' takes its name from the motto of 22 Squadron RAF, in which the Prince serves as a Search and Rescue pilot.
During rehearsals at RAF Northolt, Wing Commander Stubbs, principal director of music RAF Music Services, said:
A fanfare is quite a prescriptive piece anyway. It's not as if I lock myself up in a garage and wait for some inspiration. Far from it.
So how will it feel to have two billion people listen to his composition?
I think on the day, we'll be focused on getting it right," he said. "Our only awareness will be the audience there, and anyone else watching will be on the other side of the camera. Anyway, whether it's one person or a million, we've still got to get it right.
Away from royal weddings, Senior Aircraftman Ben Godfrey says that the band leads a packed schedule, often performing in Britain's cathedrals, which they fill with their enormous sound. Asked to describe his excitement, SAC Andrew Lofthouse said:
On a scale of one to a million, it's got to be a million," which seemed to be the consensus.
Iraq veteran Sergeant Kevin Miles added:
The whole world will watch, but we are there working and we have a job to do.
But what is Sergeant Mills' verdict on his boss's composition?
It's wonderful, my boss wrote it!" he jests, tongue firmly in cheek.
The band is a talented and diverse bunch. New Zealander Senior Aircraftman Michael McGowan has served with the British RAF for five years.
Back in the New Zealand Air Force, Michael cites a highlight as being in the first military band to perform at the King of Tonga's 80th birthday celebrations in Tonga.
It was amazing," says Michael. "But when we performed at the Tattoo, I had to climb this creaky scaffolding to play the final solo, while I clung on for dear life!
Published 21 April 2011