New family returns process begins
Damian Green has committed to putting the welfare of children at centre stage when returning families with no right to be here.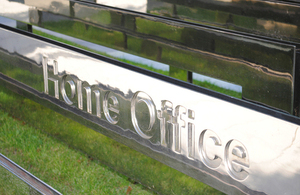 Announcing a new Independent Family Returns Panel, Mr Green said: 'The Family Returns Panel is a crucial step toward a more humane removal process for families with no right to be in the UK.
'At every stage of the process, we expect families to leave voluntarily, but while we always take a compassionate approach we must ensure that individuals with no legal right to be in the UK cannot prolong their stay and break the rules.'
Ensuring the welfare of children
The panel is one part of a new four-stage process which aims to return families with dignity, ensuring the welfare of children at all times:
•         decision-making which will be strengthened through the creation of specialist family case owners within the UK Border Agency, the development of pilots to test new ways of working with families and our continuing work with the UNHCR (the UK Refugee Agency) to test and improve the quality of our decision making.
•         assisted return, including family conferences to discuss the family's return home, welfare and medical concerns and the availability of tailored assisted voluntary return packages to help families resettle upon their return;
•         required returns for families who fail to take up assistance packages, allowing them to remain in the community, but giving two weeks notice to board their flight home and allowing self check-in without the need for enforcement action; and
•         an ensured return, as a last resort for families who refuse to depart the UK. The new Family Returns Panel will advise the UK Border Agency on return plans to ensure the welfare of the child is taken properly into account. Options will include a form of limited notice removal, the use of open accommodation, and - as a last resort where families resolutely fail to comply- family friendly, pre-departure accommodation.
Panel to provide expert advice
The panel will provide expert advice to the UK Border Agency on the best method of ensuring the return of individual families.
 
Chris Spencer, the Chair of the new Family Returns Panel, said: 'The Family Returns Panel is a welcome and vital body in ensuring the individual welfare needs of families and children during their return to their home countries.
 
'We welcome the opportunity to assist the government and UK Border Agency in their goal of establishing a more humane family removals policy.' 
 
The new panel has been appointed on an interim basis with an open recruitment process due to begin later in the year.
 
The government committed to the ending of child detention for immigration purposes in December 2010.
Published 1 March 2011