News story
New exhibition of First World War art to open in London in February
The National Portrait Gallery will stage the first national exhibition of the First World War centenary commemorations in February 2014.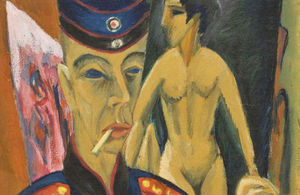 The Great War in Portraits (27 Feb -15 Jun 2014) exhibition will be the start of a 4-year public programme at the National Portrait Gallery of displays and events, and workshops for young people.
The exhibition at the DCMS-sponsored gallery will include:
80 paintings, photographs, sculpture, and films showing the human experience of war
Portraits of Siegfried Sassoon, Wilfred Owen, Edith Cavell, Mata Hari and Winston Churchill
Images of people from different backgrounds whose lives were touched – and sometimes fundamentally altered – by the war.
Taking a truly international perspective on the conflict, it will focus on the way the Great War was represented through portraits of those involved, an approach never previously adopted.
Highlights include Jacob Epstein's The Rock Drill, one of the great early modernist works related to the War; a contrasted pairing of British and German films devoted to the Battle of the Somme never previously seen together; and a rare photograph by Jules Gervais Courtellemont depicting a deserted, battle-scarred landscape, the only work in the exhibition not to depict people.
Helen Grant, Minister responsible for the government programme to mark the First World War centenary said:
We need to mark the First World War centenary in a variety of different ways. And we must do our best to help young people in particular make sense of what happened and its profound impact on everything that came after. The centenary marks the point where the war passes from living memory to written history, and this exhibition will help capture this through pictures of those from all walks of life, and many who made the ultimate sacrifice.
Portraits of Victoria Cross holders, medal-winners, and heroes will be shown alongside depictions of those whose lives were marked in different ways: casualties, those disfigured by wounds, prisoners of war, and those shot at dawn for cowardice.
The exhibition and the Gallery's First World War activities are part of First World War Centenary, the national partnership of commemorative events.
Published 24 October 2013