Press release
New EU rules for lorry, bus and coach operators
Consultation on new EU rules for lorry, bus and coach operators.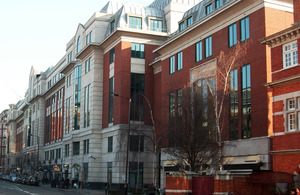 A consultation on the implementation of new EU rules covering the licensing of lorry, bus and coach operators was announced today by Roads Minister Mike Penning.
The European rules under which hire and reward operators are licensed are being changed by a new EC Regulation coming into force in December 2011. This includes a requirement for all member states to establish a national register of operators as already exists in the UK. It will also require other member states to act on information from UK enforcement agencies when operators commit infringements.
Mike Penning said:
The operator licensing system exists to make sure that the buses, lorries and coaches using our roads are operated safely and legally.

These new EU measures will help to level the playing field for UK operators by making sure that there are effective mechanisms in all member states to allow enforcement agencies to report illegal activity by foreign vehicles.

Our proposals for the implementation of these new EU rules will help to strengthen the operator licensing system and improve road safety without imposing unnecessary burdens on industry.
The areas covered in the consultation include the role of transport managers, how operators can demonstrate sufficient financial standing and how operators' transport managers can demonstrate their professional competence.
The consultation starts today and seeks views on how the new rules can best be implemented by the Traffic Commissioners, who issue operator licences and take enforcement action against those who break those rules. It will close on 20 May 2011.
Notes to editors
The current EC rules on operator licensing are contained in EC Directive 96/26/EC as amended by Council Directive 98/76/EC and 2004/66/EC. These will be replaced by EC Regulation 1071/2009 which will apply from 4 December 2011. These new rules affect fare-paying passenger vehicles and the haulage industry.
The key areas where the consultation exercise seeks views are:
The role of transport managers
The transport manager is given more prominence in the new rules and in some cases, there are restrictions on how many operators and vehicles they can be responsible for. Under the new arrangements transport managers will be able to receive an EC-wide ban if they break the rules
Financial standing
Operators must continue to demonstrate that they have enough finance to run their business properly, there are new rules on how it can be demonstrated
Professional competence
There are new rules on how operators' transport managers can demonstrate their professional competence or claim 'grandfather rights' and on how the certificate of professional competence is awarded from December 2011.
Establishment
There are new rules on how operators must prove that they are properly established and there are proposals to increase the fines available for operating without a valid operator licence and not declaring offences.
National registers
The regulation establishes a national register of operators in each member state.
The consultation will run from 4 April 2011 to 20 May 2011
Copies of the consultation package on our website or request from steve.blackmore@dft.gsi.gov.uk, or telephone 020 7944 3339.
Press enquiries: 020 7944 3118
Out of hours: 020 7944 4292
Public enquiries: 0300 330 3000
Published 4 April 2011