Press release
New era for UK-Brazil relations
Deputy Prime Minister Nick Clegg has today heralded a new era for business links between Britain and Brazil.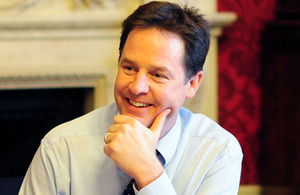 In a keynote speech in Brasilia he announced that more than £2.5bn in bilateral business has been agreed between British and Brazilian companies this year.
The Deputy PM also announced new deals including a £130m contract for BT to provide data transmission services to Correios, the Brazilian post office, and the UK Government underwriting a £185m credit line to the Brazilian steel company Gerdau that will lead to more than £270m in exports to Brazil from 79 companies across Britain.
Leading a delegation of Cabinet Ministers and UK business leaders in talks with their counterparts in Brazil, Mr Clegg sought to promote the best of British in Brazil and attract inward investment from major Brazilian firms. The £2.5bn of business highlighted today represents a significant boost to the British economy, creating jobs and growth through both exports and inward investment.
The visit this week marks the next vital phase in the UK's re-engagement with Latin America, which was kicked off by the Deputy Prime Minister in Mexico earlier this year. In order to achieve sustainable growth and a balanced economy, the UK is determined to make the most of the opportunities offered in the region, and Brazil offers trade in both directions across a range of sectors.
Nick Clegg said: 
Trade equals jobs, and that is what the people of the UK want, and the people of Brazil too.

But, equally, we should never underestimate the cohesive power of trade. It brings people together, fostering new understandings. Not between governments, or diplomats, but people; businesses; their staff; and their communities too.

Trade ensures nations have a stake in each other's success, in working together peacefully, constructively and towards the same goals. It's how we make a real difference for our citizens.

That's why I'm delighted that, over these two days, we are sealing business links worth over £2.5bn that will be a significant boost to the UK economy.
Lord Green added: 
I am delighted by the success already secured by British business on this visit. It demonstrates that the UK has a lot to offer Brazil across a range of sectors including, security, sports and oil and gas. These new deals mean more UK jobs and a boost to the profits of dynamic and innovative small and medium-sized businesses across the country. 
The Rio Olympics in 2016 and the World Cup in Brazil in 2014 both represent significant opportunities for British firms. The Deputy Prime Minister today opened an Olympic conference, bringing UK expertise in venue delivery, sustainability and accessibility to the fore at a crucial point in 2016 preparations and reinforced the fact that UK companies have the expertise Brazil needs to deliver a successful Games.
As well as trade and investment, the Deputy Prime Minister also announced significant co-operation between Brazil and the UK on science and higher education. Two major scientific firms, Masters Pharamceutical and Trimega Laboratories, are moving into the Brazilian market. Masters is opening a £9.25m facility to distribute pharmaceuticals and medical supplies, while Trimega has signed a contract to test hair samples for the Brazilian police at its labs in Manchester.
In addition, the Deputy Prime Minister announced schemes by UK Research Councils to boost joint research in the areas of food security, bioenergy and industrial biotechnology, boosting already strong research links. The UK is second only to the US as Brazil's preferred research partner.
Notes to editors 
More details on the business contracts can be obtained from the companies involved and from UK Trade and Investment.
The full list of announcements made during the visit, including business contracts and agreements with the Brazilian government, are available on the British Embassy website.
Among the most significant trade agreements signed in recent months: 

The UK Government has underwritten a £185m credit line to Brazilian steelmaker, Gerdau, which will be used to purchase plant equipment produced by Siemens AV in Sheffield.
BT has continuously expanded its networking and datacenter infrastructure in country in support of large contracts and future business growth
BP has purchased ten exploration and production blocks worth £2.1bn, expanding BP's share of the Brazilian oil market.
JCB are to invest £62m in a new factory in Sao Paulo state. Many parts and materials for the machines will be imported from the UK.  Brazil is now one of the most important markets for JCB, fuelled by a construction boom and preparations for the World Cup and 2016 Olympics. Since November 2010 the company has taken on an additional 1,000 staff members in the UK on the back of increased global demand.
Rolls Royce to invest £37m in a new facility in Rio state to assembly and test industrial gas turbines for the oil and gas industry.
Security group G4S has acquired two Brazilian companies in a deal worth over US$39m, making G4S the leading supplier to the Brazilian banking sector with a 30% market share. The company also supplies video monitoring systems to 30 Brazilian airports, and is competing for the systems at four of the stadiums hosting the 2014 World Cup.
British Airways is doubling direct flights from London to Rio from 31 October 2011, reflecting increasing people-to-people and business links between the UK and Brazil. Brazil is the only market into which British Airways is expanding this year.__
The Deputy Prime Minister is leading a delegation consisting of: 
Rt Hon Jeremy Hunt MP, Secretary of State for Culture, Media and Sport
Rt Hon David Willetts MP, Minister of State for Universities and Science
Jeremy Browne MP, Minister of State, Foreign and Commonwealth Office
Lord Green of Huntpierspoint, Minister for Trade and Investment
Business:
| | |
| --- | --- |
| AECOM | Jason Prior, Chief Executive |
| AECOM | Andrew Jones, UK Managing Director |
| ARUP | Peter Budd, Chairman of ARUP Aviation & Arup Scotland |
| Atkins Global | Chris Birdsong, Managing Director |
| Atkins | Michael McNicholas |
| BAE Systems | Martin Bennett, Group Business Development Director |
| BG Group | Martin Houston, Senior Vice President |
| Biotechnology and Biological Sciences Research Council | Steve Visscher, Deputy Chief Executive and Chief Operating Officer |
| BP | Tom Prescott |
| BP | Steve Westwell, Group Chief of Staff and Executive Vice President, Strategy & Integration |
| Deloittes | Doug King, Vice Chairman |
| Green Tide Turbines Ltd | Michael Evans, CEO |
| Invensys Plc | Andy King, Senior Vice President |
| ISG | Andrew Hampel, CEO |
| MACE Limited | Mark Reynolds, Deputy CEO |
| MIRA (Engineering) | Dr George Gillespie, CEO |
| Populous | John Barrow, Senior Principal |
| Rolls Royce | Andrew Heath, President Energy |
| Santander UK | Luis de Sousa, Head of Global Banking & Markets |
| Shell | Andre Araujo Director Latin America |
| Thomas Goode & Co, Brompton Capital Limited and Ipanema Properties in Brazil | Rumi Verjee CBE, Chairman  |
| 3i (Financial Services) | Robert Stefanowski, Chairman and Managing Partner, 3i North America & 3i Asia |
| Tullett Prebon | Steph Duckworth, Chief Operating Officer |
| Useful Simple Trust | Dan Epstein, Director of Sustainability |
Education:
| | |
| --- | --- |
| British Council | Patricia Killingley, Director of Higher Education |
| King's College London | Prof Keith Hoggart, Vice Principal for External Affairs |
| Nottingham University | Professor Christine Ennew |
| School of Oriental and African Studies, University of London | Professor Nirmala Rao, Vice Principal (Learning and Teaching) |
| UK HE International and Europe Unit | Dr Joanna Newman, Director |
| University of Aberdeen | Professor Albert Rodger, Vice Principal (External Affairs) |
| University of Bath | Professor Glynis Breakwell, Vice Chancellor |
| University of Birmingham | Professor Malcolm Press, Pro Vice Chancellor (International) |
| University of Essex | Professor Colin Riordan, Vice Chancellor |
| University of Exeter | Professor Steve Smith, Vice Chancellor and President, Universities UK |
| University of Liverpool | Professor Steve Flint |
| University of Manchester | Professor Colin Bailey, Vice-President & Dean, Faculty of Engineering & Physical Sciences |
| University of Southampton | Professor Mark Spearing, Pro Vice-Chancellor (International) |
| University of Surrey | Professor Dr Colin B Grant, Pro Vice Chancellor (International Relations) |
| University of Warwick | Professor Nigel Thrift, Vice Chancellor |
Olympics and culture:
| | |
| --- | --- |
| Arts Council England | Andrea Stark, Executive Director |
| Freedom Studios | Madani Younis, Artistic Director |
| GLA | Margaret Hickish, Principal, Access Office |
| LOCOG  | Chris Holmes MBE, Director of Paralympic Integration |
| Olympic Delivery Authority | Alison Nimmo, Director of Design and Regeneration |
| Olympic Delivery Authority | Jerome Frost, Head of Design |
| People's Palace Projects | Paul Heritage, Artistic Director |
| South Bank Centre | Jude Kelly, Artistic Director |
| Tate | Caroline Collier, Director of Tate |
Published 22 June 2011