New emergency humanitarian policy paper launched
Britain's new humanitarian policy was launched today setting out how the UK will respond to - and help prevent - disasters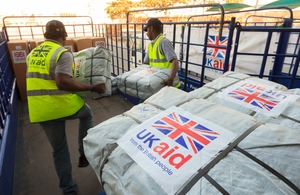 New paper on saving lives, preventing suffering and building resilience
The British Government's new humanitarian policy, Saving lives, preventing suffering and building resilience was launched today by International Development Secretary Andrew Mitchell. The policy sets out how the UK will help build resilience to future disasters and respond to humanitarian need created by conflict and natural disasters.
It follows the response to Lord Ashdown's independent Humanitarian Emergency Response Review (HERR) while taking account of other government strategies including Protection of Civilians in Armed Conflict, Building Stability Overseas and the Call to End Violence Against Women and Girls.
Secretary of State for International Development Andrew Mitchell said:
The coalition Government has the utmost respect for the neutrality, independence and impartiality of British and international humanitarian agencies.

Humanitarian personnel work tirelessly in some of the most frightening and difficult of circumstances. It is their reputation and integrity that allows us to challenge those who would deny humanitarian access or put aid workers' lives at risk.
Making sure that humanitarian aid delivers results for victims of natural disasters and conflict has never been more critical. Huge numbers of people, mostly women and children, are currently facing famine in the Horn of Africa and are in urgent need of life-saving support. Complacency, in a world where crises are increasing, both in scale and in frequency, is not an option.
The policy commits us to build resilience in all countries where we work and recognises the importance of anticipation, humanitarian leadership and innovation. It also outlines the UK's ambition to work with others to find new ways of acting quickly in "slow onset" disasters to stop them becoming major emergencies. Crucially it highlights the UK's commitment to the principle of delivering aid according to need and need alone.
The UK Government's first line of response will be to support the multilateral system, led by agencies of the United Nations. Country-specific and direct support will be given where needs cannot be met through a multilateral response and where the UK can add value.
NGOs and the Red Cross are recognised as highly valued partners, and this new humanitarian policy notes our intention to improve the way we fund partners to increase the predictability and speed of UK Government support.
As a leading donor we will work to encourage a broader range of countries to provide humanitarian funding and to support fairer "burden sharing" amongst donors. And by working as a "network enabler", we will help build alliances and coalitions for change with national governments, regional organisations, the UN, NGOs, the Red Cross and other partners.
The UK will continue to champion accountability and transparency of our aid - identifying results, evaluation and lesson-learning to ensure that British humanitarian aid provides value for money and delivers rapid and effective support to people who need it most.
Published 15 September 2011