New drive to help children find adoptive families
Details on a new scheme to speed up the adoption system.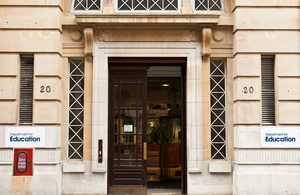 The Prime Minister has announced a new package of support for people who want to adopt to ensure more children get a stable, loving home without delays.
The government has made sorting out and speeding up adoption a priority, overhauling the system to make it swifter, more effective and robust. We have made good progress and some encouraging signs of improvement have emerged. For example, the number of children available for adoption has risen from 3,000 in 2010 to more than 4,000 in 2012. Court processes have moved more swiftly too. But we need hundreds more people to come forward to adopt.
So measures outlined today go even further to ensure potential adopters are welcomed with open arms, given a much more active role, including in the matching process, and greater support with this life-changing decision.
They will also ensure that once people have gone through the adoption process, they will get more ongoing support.
The government is:
looking at ways to give adopters a more active role in the adoption process, with the chance to make a connection with a child in advance and play a greater role in finding the right match. This will be done by: * encouraging adoption activity days, as pioneered by the British Association of Adoption and Fostering, where prospective parents can meet children waiting for adoption and have the chance to make a real connection with a child. Pilot activity days have proved very successful, finding families for almost one in five children and evidence suggests they could be particularly successful in matching harder to place children
* looking at options for opening up the adoption register to
approved prospective adopters
ensuring more paid leave for people adopting a child - bringing adoption pay and leave in line with that of biological parents when it comes to maternity and paternity leave, giving parents and children more time to bond in those early days
giving adoptive parents the right to take time off work to meet the children they are set to adopt before they move in with family, helping to make the transition to a new family be as smooth as possible
trialling the idea of personal budgets, where adoptive parents can have more choice and control over the type and provider of adoption support, that would otherwise be allocated by councils
extending the free early education for two year-olds to adopted children from 2014 and giving them priority school access from 2013
launching a new helpline in the New Year, with the phone lines manned by adopters, with first-hand experience
looking to next year, we will be launching a National Gateway for Adoption, a new 'one-stop-shop' online service, for the first stages of the adoption process, making it easy for those thinking about adoption to find out more
Edward Timpson, Children and Families Minister, said:
We are doing all we can to make sure children in care with a plan for adoption are able to have a loving and stable adoptive family as soon as possible. We know that children do well in an adoptive family and I hope this comprehensive package of support will lead to more and more people having the confidence to come forward and provide a chance for these children to thrive and reach their potential.
This support will also provide more help to those who are already adopting children who have been in care. I urge everyone this Christmas to think seriously about opening up their home to a child awaiting adoption.
This new support builds on a range of measures government has already taken to speed up the process for children, overhaul the service for prospective adopters and to strengthen local accountability for the timeliness of adoption services.
Martin Narey, the government's adoption adviser, said:
Immense and well intentioned social work effort goes into matching children to adopters. But there is in the US and now UK evidence that effective matches can be achieved by allowing adopters to take the initiative.
Of course, that does not mean that adopters can simply choose their child, they still need professional advice on such a vital decision. But it is clear - and indeed I have observed - that there is a chemistry between adopters and children which can provide a foundation for a very successful adoption.
David Holmes, Chief Executive of the British Association of Adoption and Fostering, said:
The British Association for Adoption and Fostering warmly welcomes the Prime Minister's announcements today about enhanced adoption support. Adoption support is so important in ensuring that adoptions are given the very best chance of succeeding.
We also welcome the support for our adoption activity days pilots which have resulted in a number of children being linked with their new forever families. Now, more than ever, we need more people to consider if adoption could be right for them - we must find families for the thousands of children who are waiting whilst ensuring that adoption support is available to meet the needs of all.
Notes to editors
These adoption reforms pertain to England.

The Action Plan for Adoption is available on the Department for Education website.

More information on the British Association for Adoption and fostering activity days can be found on their website.
DfE enquiries
Central newsdesk - for journalists 020 7783 8300
General enquiries - for members of the public 0370 000 2288
Published 3 January 2013