New domestic violence disclosure scheme piloted by police
Four police forces will pilot a new domestic violence disclosure scheme, the home secretary announced today.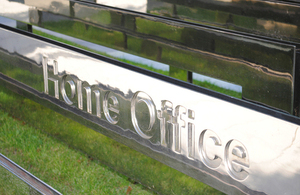 Police in Greater Manchester, Gwent, Nottinghamshire and Wiltshire will run a 12 month trial of the domestic violence disclosure scheme (DVDS) from the summer of 2012.
The pilot scheme will test the methods used by police to help victims or potential victims of domestic violence by disclosing information about previous violent offending by their partner.
It will examine the disclosure of such information when triggered by a request from a member of the public and will also look at when police can make proactive decisions to release information. Both processes can be implemented within existing legal powers and this pilot will help ensure that recognised and consistent processes can be put in place.
Home secretary Theresa May said:
'Domestic violence is a dreadful form of abuse. The fact that two people are killed by their current or former partner each week in England and Wales shows just how urgent is the need for action.
'The Government is committed to ensuring that the police and other agencies have the tools necessary to tackle domestic violence to bring offenders to justice and ensure victims have the support they need to rebuild their lives.
'This pilot scheme is designed to prevent tragic incidents from happening, such as that of Clare Wood, by ensuring that there is a clear framework in place with recognised and consistent processes for disclosing information.'
The pilot scheme follows calls for a national scheme which gained momentum following the tragic case of Clare Wood, who was murdered by her former partner in Greater Manchester in 2009. Her partner had three previous convictions under the protection from harassment act 1997.
ACPO lead on domestic abuse chief constable Carmel Napier said:
'ACPO is fully supportive of these pilots as a positive step in protecting women in domestic situations from harm. People should enjoy seamless safety and at all times be protected. A right to know and a right to ask will empower women to make informed decisions to protect themselves and their children when getting involved with a new partner.
'A national review of serial perpetrators of domestic abuse estimated that around 25,000 offenders of domestic violence had abused two or more different victims with violence or threats of violence in a three year period. Of those 2,500 had abused three or more victims and one force had an offender who had committed violence against eight different victims.
'If we hold this information and determine there is a risk of harm then we have a duty of care to disclose and inform to stop women from being victims in the first place.'
The DVDS pilot scheme will begin in the summer following a successful public consultation which received more than 250 responses from a wide range of high profile statutory and voluntary organisations.
This is just one of the ways in which the government is tackling the issue of domestic violence as part of its overall call to end violence against women and girls' action plan. It is aimed at preventing violence and providing more support for victims.
Notes to editors
The pilot will be evaluated, and a decision to roll out the DVDS scheme nationally will only be taken once the evaluation is complete.

The pilot scheme is based on two options:
'right to ask' - this enables a person to ask the police about a person's previous history of domestic violence or violent acts. A precedent for such a scheme exists with the child sex offender disclosure scheme;
'right to know' - police  can proactively disclose information in prescribed circumstances.
To view the summary of responses for the domestic violence disclosure scheme consultation please visit  http://www.homeoffice.gov.uk/publications/about-us/consultations/domestic-violence-disclosure/
To view the 'call to end violence against women and girls' action plan' visit www.homeoffice.gov.uk/vawg
On 13 April 2011, the government implemented section 9 of the domestic violence, crime and victims act 2004. This means that local areas and agencies are expected to undertake a multi-agency review following a domestic violence homicide to assist all those involved in the review process to identify the lessons that can be learned from domestic homicides with a view to preventing future homicides and violence.

Overall, the home office is providing £28m of funding for specialist domestic and sexual violence services over the next four years.
Published 5 March 2012