New depot smoothes the way to Afghanistan
A new storage depot has been completed at Royal Marines Barracks (RMB) Chivenor, which will allow military vehicles to be despatched quickly and efficiently to the front line.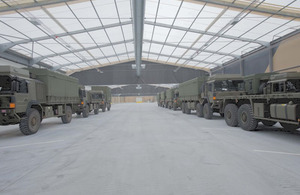 Defence Estates (DE), working with industry partner Debut Services, has provided the Commando Logistics Regiment (Cdo Log Regt) with a secure, Controlled Humidity Environment (CHE) vehicle storage facility at the Devon base.
The new building is an extension to the existing facilities and greatly enhances the active life of military vehicles. It minimises environmental damage to vehicles by removing moisture from the atmosphere and allows them to be maintained in a condition for immediate deployment.
DE and Debut delivered the CHE storage facility, on behalf of the Royal Navy Estate Organisation (RNEO). The new building supports the provision of second line Combat Service Support to 3 Commando Brigade Royal Marines.
Chris Roberts, Project Sponsor, RNEO said:
I am extremely pleased with the outcome of this project, particularly, the high quality of workmanship and the 'can do' approach of the entire project team. Lessons learnt from an earlier facility were quickly gathered, analysed and resolved leading to a much improved and far more efficient final design.
The facility itself has the potential to quickly pay for its own construction and running costs by delivering improved availability and reliability of our valuable hi-tech vehicle fleet. It will also significantly extend vehicle life and reduce servicing costs.
The building was opened by Major General Garry Robison Royal Marines, Chief of Staff Capability to Commander in Chief Fleet.
DE's Project Manager, Emily Simmons, commented:
I'm very proud to have handed over an important facility which supports 3 Commando Brigade's fleet of military vehicles. This project demonstrates a successful partnership between DE, RNEO and Debut, which is highly motivated and capable.
Paul Nix, Debut's Core Works Director, added:
The project team has delivered a high quality facility within budget and on programme that supports the operational requirements of the UK's Armed Forces.
Published 11 August 2010