New definition of domestic violence and abuse to include 16 and 17 year olds
Victims of domestic violence and abuse aged 16 and 17 will be recognised under a new cross-government definition, Nick Clegg announced.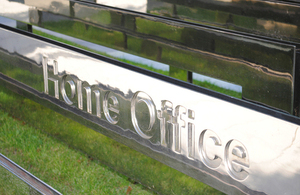 The extension of the definition of domestic violence to include people under 18 is the latest move by the government to tackle domestic violence. The decision follows a government consultation which saw representatives from the police, voluntary organisations and local authorities call overwhelmingly for this change.
Extending the definition will increase awareness that young people in this age-group experience domestic violence and abuse, encouraging more of them to come forward and access the support they need - for example, speaking to someone about the abuse or contacting a helpline or a specialist service.
This follows the government's successful teenage relationship abuse campaigns and is backed up by the british crime survey 2009/10 which found that 16-19-year-olds were the group most likely to suffer abuse from a partner. 12.7 per cent of women and 6.2 per cent of men in this age group suffer abuse, compared to seven per cent of women and five per cent of men in older groups.
The deputy prime minister also announced that:
the definition of domestic violence will now include 'coercive control'. The previous definition defined domestic violence as a single act or incident. The new definition recognises that patterns of behaviour and separate instances of control can add up to abuse - including instances of intimidation, isolation, depriving victims of their financial independence or material possessions and regulating their everyday behaviour;
a new NSPCC young people's panel has been established to help inform the government's work on tackling domestic violence, particularly by and against young people. The deputy prime minister will today meet with young ambassadors from the NSPCC and congratulate the organisation on taking such a stand on the issue.
The new definition will be implemented by March 2013.
 
Deputy prime minister Nick Clegg said:
'These changes are about government taking a lead to help expose the true face of domestic violence, which is much more complex and much more widespread than people often realise.
'Suffering at the hands of people who are meant to care for you is horrific at any age. But it can be especially damaging for young people - the scars can last a lifetime.
'Campaigners, councils, the police - the people on the frontline - have called for this new definition so that they can do their job and provide victims with the right support.
'The coalition is joining forces with them to send a message loud and clear: even if you're young, even if what you experience isn't one single act of violence, you do not have to put up with abuse. There is help out there for you.
'And to the perpetrators the message is equally simple: what you're doing is wrong and won't be tolerated.'
Early identification and the recognition that domestic violence is not confined to physical abuse is key to preventing an escalation of violence.
The decision to create a new definition for domestic violence follows a 15-week consultation which took views from the public, victims, charities and frontline agencies.
The consultation found that excluding 16 and 17-year-olds from the definition left young victims without the help they need to change their situation and escape abusive relationships.
Home office minister for crime prevention Jeremy Browne said:
'It is vital that victims themselves, and those supporting them, are clear what constitutes abuse so they seek the support they need early on and don't suffer in silence.
'By engaging young people in the decisions that affect them we will improve the services being delivered and ensure communities are working together to challenge and tackle this dreadful form of abuse.'
The government also announced today a young people's panel set up by the NSPCC which will work to inform the government's ongoing work to tackle domestic violence. The panel will comprise up to five members aged between 16 and 22, who will work with government on domestic violence policy and the wider work to tackle violence against women and girls.
Andrew Flanagan CEO of the NSPCC said:
'Domestic abuse it not just an issue for adults, but also for teenagers. ChildLine receives around 3,000 contacts a year from young people about this issue.
'Teenage years are difficult at the best of times but a lack of experience in relationships and issues with self-confidence can mean young people feel they have nowhere to turn. Many victims, as well as perpetrators, come from abusive homes themselves and therefore don't realise how wrong these kind of relationships are.
'We strongly support these changes for young people who have suffered physical or emotional abuse and urge anyone in abusive relationships, male or female, to come forward and seek help. The NSPCC's young ambassadors are helping the home office to make sure these changes make a real difference for young people.'
The new definition of domestic violence and abuse now states:
'Any incident or pattern of incidents of controlling, coercive or threatening behaviour, violence or abuse between those aged 16 or over who are or have been intimate partners or family members regardless of gender or sexuality.
This can encompass, but is not limited to, the following types of abuse:
psychological
physical
sexual
financial
emotional
'Controlling behaviour is: a range of acts designed to make a person subordinate and/or dependent by isolating them from sources of support, exploiting their resources and capacities for personal gain, depriving them of the means needed for independence, resistance and escape and regulating their everyday behaviour.
'Coercive behaviour is: an act or a pattern of acts of assault, threats, humiliation and intimidation or other abuse that is used to harm, punish, or frighten their victim." *
This definition, which is not a legal definition, includes so called 'honour' based violence, female genital mutilation (FGM) and forced marriage, and is clear that victims are not confined to one gender or ethnic group.
The government has already ring-fenced nearly £40million of funding up to 2015 for specialist local domestic and sexual violence support services, rape crisis centres, the national domestic violence helplines and the stalking helpline.
Since coming to power the government has taken active steps to protect and support women, girls and men facing domestic violence. This includes:
the prime minister announcing in June this year that forcing someone to marry will become a criminal offence in England and Wales;
providing funding to the men's advice line and broken rainbow. In February the home office announced that £225,000 of funding would be shared among 12 organisations tackling and developing domestic violence services for men;
work to prevent girls becoming victims of female genital mutilation (FGM), including the launch later this year of the 'declaration against FGM' a document for girls and women travelling abroad which can be presented to friends or family reminding them that FGM is against the law in the UK;
pilots launched this summer in Gwent, Wiltshire, Nottinghamshire and Greater Manchester of the domestic violence disclosure scheme The pilot will test a process for enabling the police to disclose to the public information about previous violent offending by a new or existing partner where this may help protect them from further violent offending;
the creation, under the protection of freedoms act 2012, of two new stalking offences and additional police powers to investigate these offences.
Notes to editors
1. The summary of responses to the 'cross-government definition of domestic violence' consultation can be found on the home office website: http://www.homeoffice.gov.uk/
2. In 2004, the government introduced a single definition of domestic violence, replacing the previous different definitions in use across government and the public sector. The current definition defines domestic violence as: 'any incident of threatening behaviour, violence or abuse [psychological, physical, sexual, financial or emotional] between adults who are or have been intimate partners or family members, regardless of gender sexuality.'
3. The government has already taken a range of action on domestic violence as part of 'A call to end violence against women and girls'. Earlier this year it announced two new stalking offences, and the criminalisation of forced marriage. The government has also introduced domestic violence homicide reviews and are working with the association of chief police officers to ensure officers understand the complexities of domestic violence cases.
4. The home office also launched the teenage relationship abuse campaign in september 2011 and the teenage rape prevention campaign in March 2012. http://thisisabuse.direct.gov.uk/
5. Helpline numbers:
National domestic violence helpline: 0808 2000 247
Men's advice line: 0808 801 0327
Broken rainbow: 0300 999 5428
National stalking helpline: 0808 802 0300
Childline: 0800 1111
England 24-hour helpline 0808 200 0247
Wales 24-hour helpline 08457 023 468
Scotland 24-hour helpline 0800 027 1234
Northern Ireland 24-hour free-phone helpline 0800 917 1414
Republic of Ireland helpline 1800 341900
Published 5 November 2012