Press release
New defence to reduce flood risk in Tonbridge
The Environment Agency has completed a flood defence scheme to reduce the risk of flooding in parts of Tonbridge.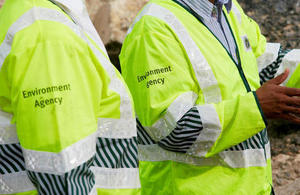 During the December 2013 floods, approximately 80 homes in the Barden Road and Danvers Road area of Tonbridge were flooded. The new Avebury Avenue flood defence will reduce the chance of this happening again.
On 23 and 24 December 2013, up to 76mm of rain fell in 24 hours onto the sodden Medway catchment. The River Medway responded by rising significantly, coming out of bank at Avebury Avenue. The new defence at the rear of the Avebury Avenue flats has restored the ground height and will reduce the risk of flooding from the river to homes in the area.
The 320-metre long flood defence runs parallel to the River Medway, and will work in conjunction with existing flood defence walls in Tonbridge town centre and the Leigh Flood Storage Area.
Lisa Lennox, Asset Performance Team Leader for the Medway and North Kent said:
We wanted to ensure that the new defence structure suited its surroundings whilst still providing a suitable level of protection, so the structure is subtle and in keeping with the modern flats of Avebury Avenue.

Since Tonbridge was flooded in 2013 we have done a lot of work to make communities more resilient to the risk of flooding, and I would encourage local residents to check their flood risk, make a flood plan, and sign up to our free Flood Warning Service by visiting GOV.UK or calling 0345 988 1188.
Although the new defence will reduce the likelihood of flooding, flood risk can never be completely eliminated and the Environment Agency has been working with Kent County Council and Kent Fire and Rescue Service to train Community Flood Wardens to work with communities and emergency services before, during and after a flood event.
Carl Lewis, one of the Flood Wardens for Tonbridge said:
Tonbridge Flood Warden Team are local volunteers committed to the safety and security of the people in at risk areas of the town and liaise closely with the Environment Agency and other agencies. Flood Wardens are vital to helping communities survive the effects of flooding.
Published 29 December 2015