New Defence Intelligence buildings handed over to MOD
The first of a suite of new buildings to house Defence Intelligence has been formally handed over to the MOD at RAF Wyton.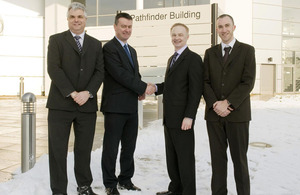 Under the Programme to Rationalise and Integrate the Estate (PRIDE), a completely new state-of-the-art building has been constructed to house intelligence staff in a completely open plan environment at the Cambridgeshire station.
Housed in the 'Pathfinder Building', the Defence Geospatial and Intelligence Fusion Centre (DGIFC) will provide analysts with the opportunity to work in new collaborative ways, the first of its kind in the UK.
Chief of Defence Intelligence, Vice Admiral Al Richards, said:
The formal handover of the Pathfinder Building represents a key milestone in the Defence Intelligence Modernisation Programme. The creation of the DGIFC in this magnificent new building is an exciting and important new development in Defence Intelligence.
DGIFC's state-of-the-art accommodation coupled with modern IT systems will enable innovative collaborative working practices with teams delivering a step-change in support to senior decision-makers and war-fighters alike.
RAF Wyton is the site for the £308m PRIDE. In the near future, Wyton will become home to the new Joint Forces Intelligence Group (JFIG) which brings together the Command Group and elements of the Intelligence Collection Group.
This colocation will help JFIG to better focus its resources in delivering critical intelligence support to Defence, other government departments and the UK's allies.
The contract for these buildings was let by the Defence Infrastructure Organisation (DIO) to Skanska (UK) plc in April 2009 and involved demolition of existing barracks blocks on the pre-Second World War station and the building of new technical accommodation for Defence Intelligence.
DIO managed the contract working with Skanska and with the PRIDE team to ensure the handover of the new Pathfinder Building was on time and budget. The new PRIDE buildings are constructed to be as environmentally friendly as possible to help the MOD achieve its sustainability targets.
Skanska has an excellent record of keeping recycling and sustainability issues at the forefront of its planning.
The colocation of the Command Group and key elements of the future JFIG, currently based at Feltham, Brampton and Hermitage, will begin in September 2012. By January 2013, the JFIG Command Group, along with other elements of the organisation, will have moved into the Pathfinder Building.
The next set of buildings to be handed over will be known as the Roy Lines, after General William Roy, an Ordnance Survey pioneer. These should be handed over to the MOD in May 2013.
We need your help! We are trying out designs for a new single website for all of government and we'd love your feedback. Please visit the 'Government beta site' by clicking on the link under Related Links.
Published 16 March 2012