World news story
New Cuban Chevening Scholars received certificates to study in the UK
16 young Cuban professionals received their certificate as Chevening scholars from British Ambassador in Havana, Antony Stokes.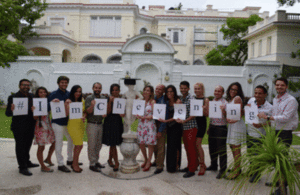 The group will soon depart from the island to study a one-year Masters course in their area of expertise in prestigious British universities.
The event included a presentation by Second Secretary Anthony Henderson about the Chevening Programme and general information about living in the UK, as well as a discussion with former scholars who provided useful tips and recommendations to the new students. Antony Stokes said:
This is the largest ever number of Cubans awarded a Chevening scholarship. Each and every one I met is impressive in different ways, talented, energetic, creative, and warm-hearted. I am looking forward to hearing stories about their progress in British universities, before they come back to Cuba.
Applications for Chevening scholarships are open until 7 November 2017. www.chevening.org
Published 4 September 2017