Press release
New crossing to improve safety on A595 in Egremont
Pedestrians and cyclists in Egremont will soon benefit from a new signal-controlled toucan crossing to help them cross the A595.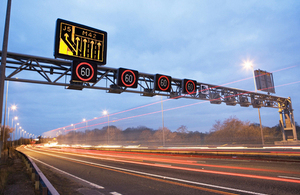 The Highways Agency will begin work to install the new crossing, which will improve safety on the road, on Monday 24 March.
In addition, there will be a reduced speed limit from 50mph to 40mph along the A595 between East Road roundabout and Clintz roundabout, which will also decrease traffic emissions and reduce noise for residents.
The work will take place outside peak hours, from 9.30am to 3.30pm daily, and both northbound and southbound lanes will be affected. Temporary traffic signals will be in use during the crossing work, with traffic taking turns to travel in each direction.
There will also be short pedestrian diversions while footways are excavated to install the crossing.
Peter Gee, Project Manager for the Highways Agency, says
The new crossing will be beneficial in improving safety along this stretch of the A595, making it easier for pedestrians and cyclists to cross the road. The reduced speed limit will also benefit local residents in terms of reducing pollution and noise.

Work will take place at off-peak times to minimise disruption to motorists, and traffic will be controlled by temporary lights during off peak hours. We would like to thank drivers for their patience during this time.
Cumbria county councillor Frank Morgan chairs the Local A595 Liaison Group, which holds quarterly meetings with the Highways Agency to discuss issues affecting the trunk road. He said:
The liaison group has been calling for action on this part of the A595 for some time, so I'm delighted the Highways Agency is now pressing ahead with this safety scheme.

Tragically there has been a fatality on this road as well as a number of other accidents. The safety of all road users is our top priority and I believe introducing a toucan crossing with traffic controls and reducing the speed limit to 40mph will make a big difference in this area.
General enquiries
Members of the public should contact the Highways Agency Information Line on 0300 123 5000
Media enquiries
Journalists should contact the Highways Agency press office on 0844 693 1448 and use the menu to speak to the most appropriate press officer
Published 13 March 2014