News story
New Commissioners on the Marshall Aid Commemoration Commission
The Foreign Office is pleased to announce the appointment of three new Commissioners on the Marshall Aid Commemoration Commission.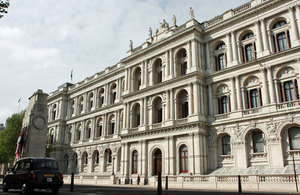 The new Commissioners are:
Ms Eliza Hermann, Civil Service Commissioner and Board Member
Ms Janet Legrand, Partner and Senior Elected Board Member at DLA Piper
Professor Simon Newman, Professor of American History at the University of Glasgow
They will start their terms on 1 July 2013, 1 August 2013 and 1 December 2013 respectively.
Commissioners serve for a term of three years, with the possibility of re-appointment for a second term. The appointment is unpaid.
The Marshall Aid Commemoration Commission is responsible for overseeing the British Marshall Scholarships programme, which was established in 1953 by an Act of Parliament. The scholarship programme enables talented, young American postgraduate students to study at a UK institution and to develop an understanding and appreciation of the UK. Up to forty new scholars are selected each year. The scholars are identified as potential future leaders in the United States and as alumni they make an important contribution to the UK-US bilateral relationship.
The Foreign and Commonwealth Office gives the Marshall Aid Commemoration Commission an annual grant-in-aid, which is £2 million in 2013-14.
Further information
Follow the Foreign Office on twitter @foreignoffice
Follow the Foreign Office on facebook and Google+
Subscribe to the announcements feed or email alerts to get our latest news and announcements
Published 11 July 2013