Press release
New child maintenance system fit for the 21st century starts today
The last of a series of radical changes to the child maintenance system is implemented today (11 August 2014).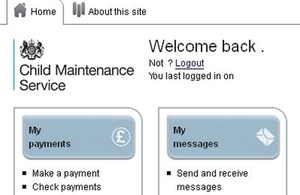 The new system is a break from the failures of the past, which saw children miss out on support despite hugely expensive running costs.
Innovative new features will now also include an online banking-style self-service facility, enabling parents to keep track of payments themselves.
Parents are encouraged and now fully incentivised to co-operate in the best interests of their own children.
But a vastly improved, efficient statutory service remains in place for separated families who choose to continue to rely on the state.
The government's landmark reform of Britain's child maintenance system has entered its final chapter. From today, new support and incentives kick in giving families a better chance to take state bureaucracy out of their family arrangements.
Today also sees a major development in government support for separated families with the launch of a new self-service facility which helps separated parents to manage their maintenance arrangements and keep track of payments.
This facility, based on increasingly popular online banking formats, enables users to make and receive safe and secure payments 24 hours a day, as well as update their details, send enquiries, and see records of letters and phone calls at the click of a mouse.
Child Maintenance Minister Steve Webb said:
For decades, thousands of children – over half of those in the old CSA system – did not get the regular financial support they needed, while at the same time costs reached huge levels.

This government has taken radical action to eradicate the failures of the past and replace them with a fair, efficient, streamlined service, fit for the 21st century – a system that supports parents and gets more money to more children.

The new online facility is an important part of the new service and I have no doubt that it will very quickly become a normal part of child maintenance management for many families.

But most importantly, the new system encourages parents to work together in the interests of their children and will help many to take the state out of their maintenance arrangements altogether.
The move is part of reforms which are seeing the Child Support Agency (CSA) wound down over the next 3 years. As it closes its cases, parents are encouraged either to make their own arrangements or take advantage of the government's Direct Pay system.
Direct Pay allows parents to work together, using the new online self-service account, but intervenes in the event of missed payments or problems. Almost 40% of parents in the new system are already choosing this path. There are no ongoing charges for this service.
The third option will be for families to transfer into a replacement statutory system in which the new Child Maintenance Service will collect and pay maintenance, again with the option of parents tracking progress using the self-service account. But, in order to enable the new statutory service to concentrate on the most challenging of cases and avoid replicating the out of control bureaucracy which characterised the old system, new ongoing collection charges will apply from today to discourage its use when parents could instead work together.
The department has trialled the new online facility with a small group of parents since January, with overwhelmingly positive feedback.
One trial user, Vicky Conner from Stockport, said:
I have found the site extremely beneficial, detailing all up-to-date account information including any correspondence issued. The site is not only very user friendly but also very secure.
Another trial user, Andrew Gilluley from Glasgow, said:
The self-service facility provides more than I expected, and will be my preferred method of communication and source of information for everything related to my case. I have 2 children with 50/50 shared care, which means myself and my ex-partner both pay maintenance to each other.

The self service facility should add a level of transparency as it details how the calculations have been made, and provides dates for every contact you've had with the Child Maintenance Service.
More than 600 people have already registered in advance their interest in using the new facility and anyone who is already within the new Child Maintenance Service can now take advantage of it.
Today's developments follow the introduction of other changes, including the introduction earlier this summer of a one-off £20 application fee to use the Child Maintenance Service and of enforcement charges ranging from £50 to £300 for the small minority of absent parents who try to evade their maintenance responsibilities.
The department launched an online facility for employers in February to make it easier for businesses to meet their legal obligation to deduct child maintenance from the wages of staff who need to make payments in this way.
These online facilities come on top of other modernising features such as a direct interface with HMRC enabling paying parent's income information to be pulled directly from the tax database, as well as the introduction of annual reviews to ensure child maintenance amounts are updated regularly.
The government has also made £10 million available to support an innovation fund, with 17 projects being delivered across the country which are providing mediation and other support to help separated parents to maintain a working relationship in the interests of their children.
More information
The new self-service child maintenance facility is part of the Government Digital Strategy to provide simpler, clearer and faster information and make services easier to use with government services built around user needs.
Read more detail on the government's reform of the child maintenance system and the winding down of the CSA
With Direct Pay, the Child Maintenance Service works out an amount for parents to pay and provides guidance on setting up regular payments. Payments are then arranged between parents and the Child Maintenance Service will then only intervene if necessary in the event of missed payments.
With Collect & Pay, whereby the Child Maintenance Service calculates, collects and pays maintenance on behalf of the parents, charges are introduced from today. The paying parent faces the highest charge: their fee will remain at 20% on top of the maintenance calculation while the receiving parent pays 4% of the amounts received.
A one-off £20 application fee to use the Child Maintenance Service was introduced in June, alongside enforcement charges ranging from £50 to £300 for the small minority of absent parents who try to evade their responsibilities. Victims of domestic violence and abuse will not have to pay the application fee.
The Child Maintenance Service has been introduced gradually since 2012 and is now open to all separated parents. It will eventually replace the Child Support Agency which is gradually closing its cases over the next 3 years, giving these parents the choice to make their own arrangements or use the new Child Maintenance Service.
Read the latest statistics on the Child Maintenance Service
Contact Press Office
Media enquiries for this press release – 0203 267 5120
Press Office
Caxton House
Tothill Street
London
SW1H 9NA
London Press Office (national media and London area enquiries only – not questions about personal claims) 020 3267 5144
Out-of-hours (journalists only) 076 59 108 883
England and Wales (local media enquiries) 029 20 586 then 097 or 098 or 099
Scotland (local media enquiries) 0131 310 1122
Follow DWP on:
Published 11 August 2014