New Chief of the Defence Staff and Permanent Secretary issue messages to UK defence staff
Ursula Brennan, who formally took over as the MOD's new Permanent Under Secretary today and General Sir David Richards who formally assumed responsibility as new Chief of the Defence Staff on Friday 29 October 2010 have issued the following messages to Defence Staff.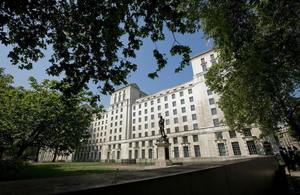 Message to staff from new Permanent Secretary Ursula Brennan
On my first day as Permanent Under Secretary for MOD, I am conscious of the many challenges facing the Department. Sir Gus O'Donnell, the Cabinet Secretary, speaks of implementation of the Comprehensive Spending Review, which has set major reductions in budgets across the whole of the public service, as "the leadership challenge of a lifetime.
For us in defence the challenge is even greater because we have to implement both the Spending Review and the Strategic Defence and Security Review (SDSR) while continuing to ensure success on operations in Afghanistan – our Main Effort. The quality of work which went into the SDSR shows that the MOD is not short of talent to confront these challenges.
In my time as 2nd PUS I have been impressed by the astonishing diversity of the work which we do and by the commitment of our people, military and civilian alike. I am aware that in two years I have only scratched the surface and I look forward to meeting more of you in the weeks and months to come.
The SDSR is now formally complete, but the real challenge – taking our new planning assumptions and matching them with resources and capabilities - has only just begun. Developing and delivering our strategy for the Future Force 2020 as set out in the SDSR, will require the best efforts of all of us in Defence.
In this next phase, the work of the Defence Reform Unit will come to the fore in helping us to build a simpler, more cost effective model for the way we run Defence. One priority in this transformation of the MOD will be building our reputation in Whitehall (and beyond) as leaders on strategy. Another priority, for each and every one of us, is strengthening our reputation on value for money.
The job reductions which we need to make over the next few years, will be unsettling and difficult and over the coming months, CDS and I will be looking to everyone in Defence, civilian and military, to support each other and to work together for the defence and security of the United Kingdom. The challenges we face are considerable, but we know that when civilians and the military work together, using the skills and experience of everyone in the team, we are capable of great things.
Message to staff from new Chief of the Defence Staff General Sir David Richards
Order of the day to all those in the Armed Forces and for the information of all MOD civil servants
Historically many thoughts must have gone through the minds of those in my position at a time like this. I am no different. They range from some bafflement as to how a modest ambition to join my brother's regiment in 3 Commando Brigade could lead 39 years later to me being appointed CDS through to what a humbling and very special privilege it is to lead the outstanding soldiers, sailors, marines and airmen – and, with PUS, a large number of civil servants that support them so magnificently – that are the beating heart of our Armed Forces.
Those who have witnessed my interventions in the SDSR process and my previous commands will confirm that I believe our people and their families are the most important element of capability. Recognising this in our decision-making is very important to me. This is especially so in a time of war.
I will not disguise from you that we are, self evidently, in a difficult position. But, as a very minor historian, I know enough to tell you that our forebears have frequently been in the same place. They, through a combination of sound decision making and turns in fortune, brought their respective generations through it. I have absolutely no doubt that we will do the same.
We now have our orders. The National Security Strategy, with its clear description of 21st Century conflict and how we should seek to reduce its risk, is our Commander's Intent. The SDSR provides the required detail. We have what we need to devise and implement a practical strategy to deliver the right outcome.
Tough decisions are still needed but we have a clear direction of travel and we will get there. It applies to everyone but particularly for those serving in the MOD, it is very important that you all coalesce behind PUS and me as we build on the SDSR baseline. We must now work in support of the Secretary of State to lead this great Department of State and this highly capable Military Strategic HQ in achieving the outstanding results we know our Armed Forces are capable of.
Whilst delivering Force 2020 will be our underlying purpose our designated Main Effort, that will continue to take priority over all other activity, is to be support to ISAF's campaign in Afghanistan. Concurrently we must strive harder, and find the resources, to maximise our ability to respond with agility and effect to short notice crises.
Martin Luther King once famously said "I have a dream". Well I have the military version of that – I have a vision. A vision based on delivering the Government's long-term strategic Intent on the one hand and on achieving strategically vital success in Afghanistan, under General Petraeus and with our allies, on the other.
Both these aims are clearly inextricably linked. I would ask you all now selflessly to work out how you can best help deliver this vision. Much innovative and radical thinking, a preparedness to shed outmoded or now irrelevant attitudes and structures, will surely be needed.
Finally, and without doubt most importantly, wherever you may be reading this Order of the Day thank you for all you are doing and will, I know, continue to do. Through instinct and from experience I am acutely conscious of the total inter-dependence of the three Services and the Civil Service and the vital role each plays. I am fortunate indeed to lead such fine people. People on whom this nation depends for the freedoms we have so long enjoyed. It is a huge responsibility but a huge privilege that we share.
Defence Secretary, Dr Liam Fox said:
I am extremely pleased to welcome two such capable replacements. I know that General Sir David Richards and Ursula Brennan will provide strong and confident leadership at a time of great change for the Armed Forces.
Published 1 November 2010