News story
New chief executive of UKBA announced
Rob Whiteman appointed as the new chief executive of the UK Border Agency.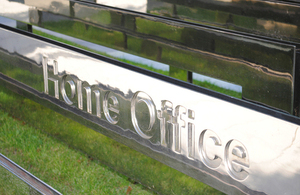 Mr Whiteman is currently the managing director of the Local Government Improvement and Development Agency and has extensive experience of public service. He was chief executive of the London Borough of Barking and Dagenham for five years and was previously the deputy chief executive for the London Borough of Lewisham.
Reaction
Helen Ghosh, the Permanent Secretary at the Home Office, said:
'I am delighted to announce the appointment of Rob Whiteman as the new chief executive for the UK Border Agency. He has an outstanding record of service improvement and leading change in the public sector, and will ensure the UK Border Agency has the direction it needs during the challenges ahead.
'I would also like to thank Jonathan Sedgwick for the excellent job he has done as the interim chief executive.'
Theresa May, the Home Secretary, said:
'This is a hugely important post. Protecting our border effectively is absolutely critical to the work of the Home Office. Rob brings a wealth of experience to the department and I look forward very much to working with him.'
Rob Whiteman said:
'I am honoured and excited to be appointed to UKBA which carries out such a vital role. I am looking forward to taking up post and meeting staff and managers throughout the Agency and the organisations we work with to deliver excellence.'
Sir Merrick Cockell, chairman of the Local Government Association, said:
'Rob Whiteman has made a very significant contribution to local government through his roles in several leading councils and national work on our behalf. I am sure he will make an equal impact in central government and that his energy will bring success to UKBA and the Home Office.'
Biography
Mr Whiteman joined the Local Government Improvement & Development Agency in 2010 and has led local government's response to the government's agenda for greater self regulation and improvement. Working across Whitehall he supported policy discussions between the new coalition government and local government.
Prior to this Mr Whiteman was chief executive of Barking and Dagenham Council. During his tenure the council received top ranking from the Audit Commission and the prestigious award for Most Improved Council of the Year in the 2008 local government awards.
He has also held several local government finance advisory roles for the Local Government Association (LGA) and Chartered Institute of Public Finance & Accountancy (CIPFA).
Mr Whiteman is a well known commentator and writer on public service reform and modernisation. He is also currently a board member of the Department for Energy and Climate Change and chairs its audit committee.
Published 15 July 2011