New Chief Executive appointed at The Identity and Passport Service
The Identity and Passport Service (IPS) today announced the appointment of Sarah Rapson as its new Chief Executive.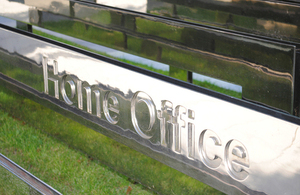 Ms Rapson, who is currently Executive Director of Service Planning and Delivery at IPS, will take up the post on 15 July following the retirement of the current Chief Executive, James Hall.
The Identity and Passport Service is an Executive Agency of the Home Office and it incorporates the General Register Office (GRO). IPS is responsible for issuing passports and providing passport verification services. The GRO issues certificates for births, deaths and marriages.
Statement from the Identity and Passport Service Chief Executive
Ms Rapson said,'I am very happy to be taking on the role of Chief Executive at IPS. There are significant challenges ahead but I'm confident that with the work James has already done to get us to this point, I will have a solid foundation on which to build.
'I now want to work with colleagues across IPS to build upon our reputation for great customer service by transforming how we provide passport and civil registration services, improving our online passport application service, moving forward with our registration modernisation and continuing to provide citizens with a secure passport and a trusted and efficient registration service.'
Statement from James Hall
Mr Hall said, 'I am delighted that Sarah has been appointed. She will be a great leader for IPS over the next few years.'
Sarah Rapson joined the Home Office in 2005 as Director of Passport Operations and was responsible for seven regional offices and 69 interview offices across the UK. 
Two years ago, Sarah was promoted to Executive Director of Service Planning and Delivery. She has been responsible for leading 2,600 service delivery staff to meet performance and customer service targets
Notes to editors
An electronic image of Sarah Rapson and full biography are available from the Home Office press office.
Media enquiries should be directed to the Home Office press office on 0207 035 3535.
Published 2 July 2010