Announcement
New challenges, new chances for adult learning
This was published under the 2010 to 2015 Conservative and Liberal Democrat coalition government
The plans outlined in _New Challenges, New Chances, _published today, represent the next phase of the Government's plans to implement radical…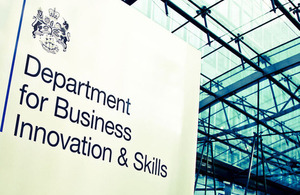 The plans outlined in _New Challenges, New Chances, _published today, represent the next phase of the Government's plans to implement radical reform of adult learning and skills provision in England. They build on the strong achievements of the past year, with record numbers of apprenticeships and a raft of freedoms for training providers.
The consultation covers measures to:
Provide greater freedoms and flexibilities and further reduce the burden of bureaucracy on further education and skills providers;
Improve the quality of teaching and learning for adults;
Strengthen further education and skills providers' capacity to offer training at higher education level;
Review and improve basic literacy and numeracy provision for adults;
Refocus Government support for informal adult and community learning; and
Introduce loans from the 2013/14 academic year providing access to advanced and higher level courses;
Develop the further education landscape and shape of the sector;
Secretary of State for Business, Innovation and Skills, Vince Cable, said:
"We believe that the further education and skills sector is at the heart of our economic and educational policies. With better informed, more empowered learners and providers freed from petty bureaucracy, post-school adult learning will take its rightful place at the heart of our communities."
Minister for Further Education, Skills and Lifelong Learning, John Hayes, said:
"Our proposals describe the next steps towards a more confident, vibrant further education sector, ready to meet the challenges and seize the chances that a rebalanced, high skill economy will present.
"This Government knows that skills change lives, nourish social renewal and feed economic growth."
The consultation will close on Friday 21 October 2011.
The proposals give more detail on how key parts of the Government's strategy for further education and skills, published last November, will be implemented.
Notes to editors
The consultation documents are available online at **[www.bis.gov.uk/newchallenges](http://www.bis.gov.uk/newchallenges)**

The Strategies Skills for Sustainable Growth _and _Investing in Skills for Sustainable Growth were published on 16 November 2010 and are available at: http://skillsfundingagency.bis.gov.uk/news/pressreleases/skillsforsustainablegrowthinvestinginskillsforsustainablegrowth.htm

BIS's online newsroom contains the latest press notices, speeches, as well as video and images for download. It also features an up to date list of BIS press office contacts. See http://www.bis.gov.uk/newsroom for more information.
Notes to Editors
Contact Information
Name BIS Press Office Job Title
Division COI Phone
Fax
Mobile
Email NDS.BIS@coi.gsi.gov.uk
Name Katie Kilgallen Job Title
Division Department for Business, Innovation & Skills Phone 020 7215 1861 Fax
Mobile
Document information
Published: 16 August 2011