News story
New chair to advise on enhancing access to transport for disabled people
Keith Richards replaces Dai Powell as chair of the Disabled Persons Transport Advisory Committee.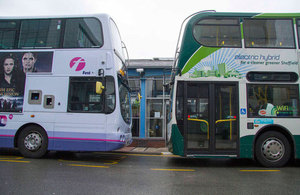 The appointment of barrister Keith Richards as the new chair of the Disabled Persons Transport Advisory Committee (DPTAC) has been announced today (6 November 2014) by Transport Minister Baroness Kramer.
Mr. Richards, who replaces Dai Powell as chair, brings significant experience to the committee, which advises the government on how to improve transport legislation and guidance for disabled people.
Baroness Kramer said:
Ensuring disabled people have the same access to public transport as everyone else is an issue close to my heart. I am delighted we have been able to attract someone of Keith's stature to this key position.

His balance of experience in the industry will be a real asset to the important work of the committee and I look forward to working with him in his new role.
Keith Richards said:
I am delighted to have been appointed as the chair of the Disabled Persons Transport Advisory Committee. There have been great improvements in access to transport over the last decade but far too many disabled people who want and need to use a variety of transport still face great challenges. That is unacceptable.

Therefore, there is much to do to, including working with the transport sector to encourage and help it to constantly improve, ensuring that existing laws are implemented and properly enforced, and negotiating new laws to guarantee greater access for more people.

I look forward to bringing my skills and experience to this important role. DPTAC has a key part to play in raising the profile of accessibility issues within government, and particularly within the transport sector.
Outgoing chair Dai Powell said:
I am delighted that Keith Richards has been appointed as the next Chair of DPTAC. Keith has a huge amount of empathy with the accessibility agenda, and my past experience of working with him has proved him to be someone who seeks to work collaboratively, and inclusively. I am sure he will prove to be an excellent Chair and leader of DPTAC.
Mr. Richards, a barrister and professional mediator, was previously vice chair of DPTAC until 2010. He is also the independent chair of the Civil Aviation Authority Consumer Panel. Keith took on his new role with DPTAC on 1 November 2014.
News desk enquiries
Press enquiries 020 7944 3021
Out of hours 020 7944 4292
Switchboard 0300 330 3000
Published 6 November 2014