New chair for the Joint Intelligence Committee
Cabinet Secretary Sir Jeremy Heywood is pleased to announce the appointment of Jon Day as the new Chair of the Joint Intelligence Committee.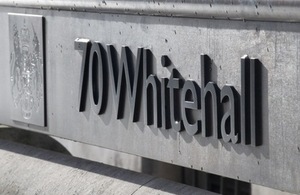 2 March 2012
The Cabinet Secretary, Sir Jeremy Heywood, is pleased to announce the appointment of Jon Day as the new Chair for the Joint Intelligence Committee. Jon, who is currently the Second Permanent Secretary at the Ministry of Defence, was chosen following an internal competition, following Sir Alex Allan's departure late 2011. The appointment has been approved by the Prime Minister and the Deputy Prime Minister.
The Cabinet Secretary, Jeremy Heywood, said:
I believe that Jon is the best person to steer the Joint Intelligence Committee (JIC) in continuing its important role in providing the National Security Council with independent intelligence assessments and playing a leading role in the intelligence community. He has a deep understanding of the domain, in particular the National Security machinery, and was until 2011 a member of the JIC. I look forward to working with him in his new role.
Commenting on his new role, Jon said:
The Joint Intelligence Committee is an indispensable component of the UK's security and defence machinery. I am pleased and proud to have been appointed to chair the Committee.
Notes to Editors
Jon Day's biography:
Jon joined the MOD in 1979. After a series of policy and operational posts, including in the Naval Operations secretariat during the Falklands War and in Ministerial Private Office, he served in NATO from 1988-1995, first on secondment to the FCO and then as Head of Force Planning in the International Staff. He was closely involved in Balkans operations and Partnership for Peace in Eastern Europe.
From 1995-97 he was the Deputy Command Secretary Land, responsible for managing the Army's £3 billion operating budget. As MOD Director of Defence Policy he coordinated the 1997-8 Strategic Defence Review.
In 2000, he was seconded to the Cabinet Office as Chief of the Joint Intelligence Committee Assessments Staff. From 2001-03 he was chief of staff to Lord Robertson, the NATO Secretary General. Returning to MOD, he was Command Secretary Fleet, head of the Head Office Streamlining project and Director Operational Policy, dealing with Iraq and Afghanistan operations.
From 2008-11 he was MOD's Director General Security Policy leading on NATO, nuclear and security policy. He was promoted to 2nd Permanent Under Secretary at the MoD in 2011.
Published 2 March 2012