Press release
New cash for innovative family support projects
An extra £2.5 million in government funding to help charities and other groups support families going through relationship breakdown.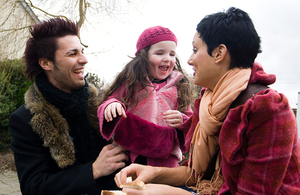 The extra funding is announced today (8 March 2015) by Steve Webb, minister with responsibility for child maintenance.
Sixteen trial Innovation Fund projects have been providing tailored support across the country helping separated parents work together for the benefit of their children since 2013.
The new funding means they will now be extended until September 2015.
Projects include specialist support to teenage parents working with their children's grandparents, face-to-face services for separated parents caught up in long-term disputes, and tailored help for Muslim families who are experiencing relationship breakdown.
Steve Webb said:
Family breakdown can be difficult for everyone involved, but the evidence shows that children stand a much better chance of getting on in life when their parents are working together.

This funding will allow these projects to continue their excellent work by helping parents to put aside their differences for their children's sake.

We are starting to see some very encouraging results from these projects which will be invaluable when it comes to designing future services and are proving priceless for the families being helped.
One of the projects, Family Matters run by the organisation Resolution, has helped more than 1,000 people on low incomes since 2013.
Joint project manager Jane Wilson said:
We are delighted that Resolution is able to continue to deliver vital support to separating couples for a further 6 months through our Family Matters service.

This welcome extra funding from the Department for Work and Pensions (DWP) will enable us to see an additional 478 parents.
Part of the DWP's work on relationship support, the projects were originally set up to work alongside the new Child Maintenance Service, which is taking a fresh approach to tackling the issue of family breakdown.
More than 6 out of 10 separated parents using the new Child Maintenance Service are now choosing to make their own financial arrangements rather than relying on the state to collect and pay maintenance on their behalf.
At the heart of the reforms lies the principle that children have a much better start in life when both parents work together across a range of issues including contact, schooling and finances – even if they have separated.
The third party organisations delivering the projects were encouraged to come up with new and innovative ways of delivering the support.
Each of the projects is unique in the type of support that they offer, which can be delivered through face-to-face sessions, over the telephone and online.
Some of the projects target specific groups, such as teenage parents, people on low incomes and families with diverse cultural background. Practical guidance is also offered on a range of matters including legal advice.
A total of £10 million was set aside to fund the various projects when they were introduced in 2013. The results from the projects will be used to design future government services.
Innovation fund projects
Howells: Working Together for Children (South Yorkshire)
Law firm Howells provides separating parents with free family legal advice, help with benefits, employment and housing issues and access to counselling and mediation.
The project is aimed at those who do not qualify for legal aid, and aims to help parents resolve their problems without having to go through the courts.
Project Manager Sue Colven said:
Howells is delighted to be able to continue to provide free help and advice to separating parents in South Yorkshire. The project has proved to be very successful, helping over 1,450 parents during the last 2 years.

We are extremely pleased that the scheme has been granted another 6 months, enabling us to help many more separating parents over the coming months.
Family Lives (Leicester, Waltham Forest, Gloucestershire)
Family Lives is delivering support to Muslim families who are experiencing relationship breakdown. In a 12-month period, nearly 6,500 calls were made to the free helpline where the primary issue cited for calling was relationship breakdown.
Deputy chief executive Pamela Park said:
We are delighted that our projects will continue thanks to this additional funding boost.

We will now be able to ensure our team of volunteers continue to support the Muslim community through providing timely support to couples contemplating separation, via befriending and focused emotional support to help all parties reach solutions and plan for the future.
Resolution: Family Matters (Oxford, Crewe and Newcastle)
This free service helps couples on low incomes, where one is receiving a benefit or receiving less than the living wage. Since 2013 they have helped more than 1,000 people who would otherwise have had nowhere else to turn.
Family Matters Guides use their knowledge of the law and skills as mediators to provide help for separating parents at a very stressful time, as well as helping them find other local sources of support.
Joint project manager Jane Wilson said:
We are delighted that Resolution is able to continue to deliver vital support to separating couples for a further 6 months through our Family Matters service.

This welcome extra funding from the Department for Work and Pensions will enable us to see an additional 478 parents. Our next goal will be to find a way to continue the service beyond September 2015, so that yet more families can be given this crucial support.
Sills and Betteridge: Moving Forward (Lincolnshire)
Family law firm Sills and Betteridge has been delivering support to families in Lincolnshire through a range of measures including group information sessions, one-to-one consultations and mediation.
They offer tailored information on legal, financial, emotional and parenting matters.
Partner Helen Derry said:
We have been overwhelmed by the reaction and response from parents who are in need of help, support and information at a difficult time in their lives, and are delighted that we can extend the scheme by an extra 6 months.

This is excellent news for families in Lincolnshire who are going through a separation or are having on-going problems in making arrangements for their children.
Mediation Now: Changing Lives (Hampshire and Portsmouth)
Mediation Now has been delivering free tailored support to families, many of whom have been referred to the charity by the courts.
They work with parents to resolve disputes by identifying trigger points.
Spokesman Helen Savage said:
So far we have supported over 80 parents, of which more than 85% have reported that they feel more cooperative, communicative, and mutually respectful with regard to caring for their children than before the course.

The extended funding offered by the DWP means we can continue to offer this vital work at no cost to parents.
Spurgeons: Supporting separated teenagers (West Midlands and Warwickshire)
Spurgeons has been delivering support to teenage parents. The programme lasts for 12 weeks and is designed to help them put a suitable parenting plan in place. Grandparents are also invited to get involved.
Chief executive Ross Hendry said:
We are delighted our Separated Teenage Parents programme has obtained an extension, allowing us to help more families work together for the benefit of their child.

Good communication is proving vital in rebuilding and sustaining good relationships; and stable healthy relationships are a cornerstone of a good childhood.

That is why we are so pleased that our proven programme is being supported to give even more children the start in life that will improve their outcomes and life chances.
Changing Futures North East: Moving On (Teeside, Sunderland and County Durham)
Moving on has been providing support to 110 families in the North East. Ninety per cent of those who have used the service say it has had a positive effect, giving them a better understanding of their children's needs and less conflict with their former partner.
Deputy chief executive Martin Todd said:
Parents who have been in conflict for a long time following separation often struggle to put their differences to one side and reach agreements that are in the best interests of their children.

Moving On provides intensive support and gives parents a chance to explore ways that they can move beyond the on-going conflict.

Wherever possible, the service enables children to have a voice in that situation as well.
Tavistock Centre for Couple Relationships: Parents In Dispute (London)
Working in partnership with London Cafcass, TCCR offers face-to-face services for separated parents caught up in long-term disputes.
The programme uses mentalisation-based therapy to help parents who are currently or have previously been in the court process and are unable to resolve their differences about their children.
Chief executive Susanna Abse said:
Initial findings show that the programme has been successful in helping parents move on from their disputes so they can focus on their children's well-being.

This work represents a unique opportunity to not only avoid or reduce the psychological harm experienced by children whose parents are caught up in the family court system, but also to substantially lessen costs to the public purse through reducing the number of court hearings such cases involve.
Children 1st: Family Decision Making Service (Scotland)
This bespoke service provides support to parents 365 days a year over the telephone or through live webchat. It draws upon the expertise of 3 organisations: Children 1st, Scottish Child Law Centre and One Parent Families Scotland.
Assistant director Linda Jardine said:
This extra funding is good news for separated and separating families in Scotland.

Children cope better with family break-up if their parents work together on the decisions which affect them, and through the Family Decision Making service parents are able to draw on the combined expertise of three partners to help them to do this.

So far the service, which is unique in Scotland, has worked with more than 1,500 individuals to make sure that, whatever difficulties the adults may be experiencing, their children remain the focus.
Pinnacle People: Families Together (Bristol)
Delivered from Windmill Hill City Farm, Families Together works with separating and separated families through a series of practical and fun sessions that are underpinned by mentoring, mediation and professional advice.
Families work through a series of practical exercises including cooking together, reading together, and learning together, to promote collaboration between parents.
Managing director Katrina Whittaker said:
So far we have supported over 35 families to agree a joint parenting agreement which has allowed their children to gain a consistent and supportive family unit and reduce the reliance on the more formal court system.

This announcement will give us the opportunity to support a further 40 families and continue this unique combination of child friendly activities and formal support that have proven a real success to date.
Malachi Family Support Services (Birmingham and West Midlands)
This project specialises in support for children affected by family breakdown, and receives referrals through schools. The support is aimed largely at the non-resident parent.
Operations manager Simone Wilson said:
Our intervention is non-judgmental, therapeutic and aims to re-engage a non-resident parent to negotiate a positive outcome.

The Service has supported over 160 families resulting in positive impacts regarding increased, consistent contact and maintenance arrangements, as well as improved relationships between separated parents.

The extension of this vital service will enable us to reach more families and subsequently improve the lives of their children.
One plus One: Splitting Up? Put Kids First (nationwide)
This project targets parents at an early stage of separation, offering a personalised online service including behaviour modelling training to help parents resolve conflict and a forum to discuss issues with other parents.
Spokesman Penny Mansfield said:
We've had a really great response to our online parenting plan, Splitting Up? Put Kids First, with nearly 6000 users so far.

Early evaluation suggests it's been particularly beneficial for those who watched the videos depicting an unhappy split from the children's perspective.

Users who went through this section of the site reported a significant improvement in their ability to communicate with their child's other parent, which is exactly what we were hoping for.
National Family Mediation: At Court Mediation (Hereford and Worcester, West Yorkshire and Berkshire)
This project aims to help parents resolve their issue without having to go to court. Experienced mediators use coaching methods to help parents improve their negotiating skills and communicate more positively keeping the child at the centre
So far they have seen more than 300 families, 75% of whom report a reduction in conflict, stress and an increase in positive communication which has much healthier outcomes for children.
Project Manager Jackie Norton said:
We have been mediating these kinds of disputes for many years but this new project gives us the opportunity to spend individual time with each parent, helping them to develop new skills so that they can resolve their own disagreements.

This has proved to be a highly successful intervention mainly because it is good preparation for a more positive mediation and parents are still in control of their own decisions.

Being allowed to continue this work for a further 6 months is enabling us to develop the individual conflict coaching element further so that we can hopefully use it once this project has finished.
Family Matters Mediate: Listening to Children Matters (Yorkshire and Nottinghamshire)
Through this project, parents are assigned a project worker, who helps them identify their hopes for their children. Children speak to a child consultant, and this information is shared with the parents to help them plan for the future. So far 76 children have been supported.
Spokesman Juliette Dalrymple said:
Parents see the project as independent, giving them the chance to make decisions for their child.

And children like the fact that their views are being listened to and they are not being asked to decide or choose.

We have examples of parents who, with our help, have started to work together following their first meeting, when previously they have not been able to sit in the same room for years.
More information
The Innovation Fund projects work alongside the new Child Maintenance Service.
The Child Maintenance Service was introduced in 2012 as a replacement for the Child Support Agency, which is in the process of being wound down.
As part of this reform, we are providing more support for separated families to reach amicable, family-based arrangements.
The Child Maintenance Service will continue to collect money on behalf of parents if they are unable to reach an agreement.
The Innovation Fund projects form part of the wider relationship support we offer. We will be making an announcement in the coming weeks about relationship support.
Contact Press Office
Media enquiries for this press release – 0203 267 5134
Press Office
Caxton House
Tothill Street
London
SW1H 9NA
London Press Office (national media and London area enquiries only – not questions about personal claims) 020 3267 5144
Out-of-hours (journalists only) 076 59 108 883
England and Wales (local media enquiries) 029 20 586 then 097 or 098 or 099
Scotland (local media enquiries) 0131 310 1122
Follow DWP on:
Published 8 March 2015