News story
New café funded by LLWR proves huge success
Beach Café attracts visitors from around the world to picturesque Silecroft.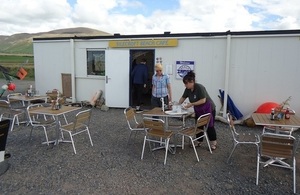 Funding of £4,000 from LLW Repository Ltd (LLWR) for a pilot project to launch a beach café on the seafront at Silecroft has paid dividends.
The project has proved a great success since its launch in August 2017, creating one full time job and attracting visitors from as far afield as Australia, New Zealand, Japan and the United States, who have sampled the food and drink on offer.
"The reaction has been so positive," said Sal Millar, a member of the Whicham Community Interest Company (CIC) Beach Group, made up of local people who have got the project off the ground.
"People have been saying a café was needed for years in that location, but without LLWR we would not have got started. Their injection of cash at the start made us press ahead.
"The bulk of our visitors come from within a 10-mile radius, but we also get a lot of holidaymakers."
LLWR initially gifted £2,000 to the CIC to enable them to buy a container unit that had been used on a building site.
It was painted, decorated and had kitchen facilities installed. But it had to rely on a generator for power until LLWR gave another £2,000 to ensure it provided mains electricity.
Silecroft Beach Café remained open throughout the winter and has enjoyed booming trade during the warm summer months.
Expansion is now on the cards, with a second container unit planned, courtesy of Copeland Community Foundation, including wheelchair accessible toilets.
The long term aspiration is for a permanent café on the site, though the Beach Group are happy with their progress to date.
"The café's popularity has amazed us," Sal said. "Next to the sea and the mountains, people love it."
Published 17 August 2018