World news story
New British Deputy High Commissioner in Kolkata
Bruce Bucknell is the new British Deputy High Commissioner in Kolkata.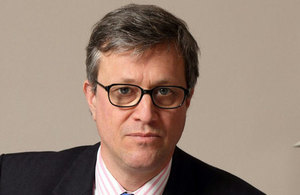 He represents the UK in the 13 Indian states of West Bengal, Bihar, Jharkhand, Odisha, Chhattisgarh, Assam, Sikkim, Meghalaya, Manipur, Mizoram, Tripura, Nagaland, Arunachal Pradesh and the Union Territory of Andaman & Nicobar Islands.
British Deputy High Commissioner Kolkata, Bruce Bucknell said:
I am delighted to have arrived in Kolkata. With my team, I cover 13 Indian states and the Union Territory of the Andaman and Nicobar Islands. I relish the challenge of working to further the vibrant people-to-people links and deep business connections with eastern India. This is a fascinating part of India, and very diverse in culture, heritage, language, and geography. I expect to be busy!
For media queries, please contact:
Mainak De
British Deputy High Commission Kolkata
Tel: +91 33 2288 5172-76

Mail to: Mainak De
Follow us on Twitter, Facebook, Flickr, Storify, Eventbrite, Blogs, Foursquare, Youtube, Instagram, Vine, Snapchat @UKinIndia, Periscope @UKinIndia
Document information
Published: 9 September 2016