New British Ambassador to Afghanistan visits Nad 'Ali
The new British Ambassador to the Islamic Republic of Afghanistan, Sir William Patey, has visited British troops and international redevelopment projects in Nad 'Ali in the heart of Helmand's Green Zone.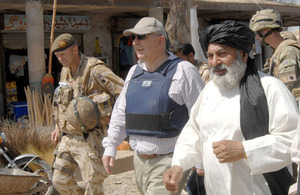 Arriving at Forward Operating Base Shawqat, the Ambassador was greeted by the Commanding Officer of 1st Battalion The Duke of Lancaster's Regiment, Lieutenant Colonel Frazer Lawrence, and the District Governor of Nad 'Ali, Habibullah Khan.
After receiving a joint briefing from Lt Col Lawrence and the Governor about the redevelopment of the area, the Ambassador took a tour of the town with Afghan and British security forces.
The tour took in the village school, a farming techniques training centre, a medical facility, and the bazaar.
Sir William said:
You come to this district and this is where it is all delivered. It was good to meet the Governor and hear what his needs were. What really impressed me was the co-operation between the international forces, the international officials here and the Governor. An Afghan, international supported effort is of the utmost importance.
As he toured the town, the new Ambassador took time to speak with local nationals and officials to discover what help the International Security Assistance Force has been able to offer and what else the people needed to continue the redevelopment of this once prosperous region.
Lt Col Lawrence commented on the day's visit:
I thought it went very well indeed. The briefing gave him [the Ambassador] a good idea of the broader area, and then the walk around the centre this morning with the District Governor allowed the Governor to tell the Ambassador exactly what he has managed to achieve.
Sir William added:
It is interesting for me to come and walk around a bazaar and meet some local people. It is a good start to my time in Afghanistan.
Published 11 May 2010