World news story
New British Ambassador Barbara Woodward visits Chongqing
Barbara Woodward paid her first visit to Chongqing as British Ambassador to China in late April 2015.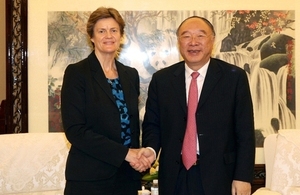 She is Britain's first female ambassador to China and has extensive experience in UK-China relations having lived and served in the embassy here before.
The Ambassador's visit
During the ambassador's visit, she met Mayor Huang Qifan and exchanged views on UK-Chongqing bilateral relations. In the meeting, the Ambassador said that 2015 was a golden year for UK-China relations – the Duke of Cambridge had visited China already and later this year the UK will welcome President Xi for a State Visit. 2015 is also a Year of Cultural Exchange and marks the 15th anniversary of the Consulate-General in Chongqing. The Ambassador looked forward to further co-operation in training, education, trade and investment between UK and Chongqing.
She also met with the staff of the Consulate-General in Chongqing, and exchanged views with business and education contacts to better understand the ongoing collaboration in trade and investment, training and education. She hoped for more educational and business exchanges that would benefit both Chongqing and the UK.
Speech on Employability
The Ambassador delivered a speech on Employability in the 21st Century to hundreds of students at Chongqing University and shared the UK's experience in increasing employability for graduates. She highlighted that:
universities must work closely with businesses to understand their needs
students need to constantly improve their skills and abilities so as to enhance their competitiveness in the job market
students need to cultivate international horizons and their abilities to study and research independently.
Meeting media and weibo followers
She also met with several mainstream media outlets in Chongqing and personally responded to questions from the Consulate's Sina Weibo followers on a wide variety of topics including UK culture, education, trade, and tourism. She said that she had last visited Chongqing 8 years ago and was deeply impressed by Chongqing's rapid development in recent years. Over 30 British companies have a presence in Chongqing and there is great potential for even more business collaboration in the field of urban planning, architectural design, environment protection and energy, especially shale gas.
The UK-China Year of Cultural Exchange
2015 is a year of Cultural Exchange between the UK and China, and is the 15th anniversary of the Consulate-General in Chongqing. To celebrate this anniversary, the Consulate and the British Council will hold a range of events throughout the year in southwest China. With a more efficient UK visa services, she welcomed that more and more people are choosing UK as a destination to visit, study and do business.
Published 7 May 2015