New batteries lighten load for troops in Afghanistan
Soldiers on operations will be carrying lighter batteries from this autumn as technology continues to make life easier on the front line.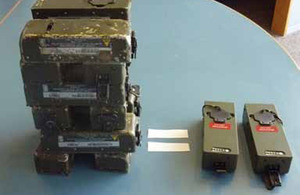 Rapid development of lithium carbon monofluoride (LiCFx) technology means new batteries for the Bowman VHF radio system will be lighter and last longer compared to batteries currently in use.
Project Manager Pete Flowers of Defence Equipment & Support's (DE&S's) Integrated Soldier Systems Executive (ISSE) said.
An eight-strong section of troops will soon be carrying two LiCFx primary batteries, each weighing around 800g, to power radios.
"At the moment they carry 12 of the secondary batteries, which each weigh 1.13kg, for a 48-hour mission. For the section, the new batteries will mean a reduction of nearly 12kg.
On longer-duration, minimally-supported missions, where weight is a deciding factor, these new primary batteries give a lighter option.
They also fit in with ISSE aspirations to give the front line commander tools to tailor his equipment to the mission in hand.
A contract has been placed for 2,000 primary batteries which will be delivered to theatre by next month.
Investigations are also being conducted into further uses of LiCFx technology.
Work on the batteries began last summer. Gary Wade of DE&S's Programmes and Technology Group said:
Under a mechanism known as Science and Technology Rapid Assistance to Operations - STRATOS - the work was initiated because of the potential benefit to current operations.
Strong sponsorship and early engagement with DE&S and user representatives enabled a robust research business case to be approved from RfR2 'formally conflict prevention' funding, and ultimately this proved crucial in exploiting QinetiQ's excellent innovation.
The Command Support Development Centre (CSDC) led the way with user input on design and performance while ABSL Power Solutions packaged the technology into a standard Bowman battery case.
A second phase of funding helped to mass produce the batteries and make key components cheaper. Mr Flowers added:
This is an example of how DE&S pulls research into the supplier base, bridging the 'valley of death' between research, ideas and growth, and technology delivery.
This article is taken from the August 2010 edition of desider - the magazine for Defence Equipment and Support.
Published 25 August 2010