New basic fee-free bank accounts to help millions manage their money
Government secures landmark deal with the big banks on basic bank accounts - ending fees for failed payments.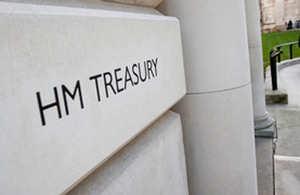 For the first time, basic bank accounts will be truly fee-free, helping people to manage their money without fear of running up an overdraft.
Accounts will be available to anyone who doesn't already have a bank account or who can't use their existing account due to financial difficulty.
The Economic Secretary to the Treasury Andrea Leadsom today (15 December 2014) hailed a major agreement between the government and the banking industry to establish new basic bank accounts that will end bank charges if a direct debit or standing order fails.
New basic bank accounts will help people who do not have a bank account or who are frozen out of existing accounts because of previous money problems.
Following extensive negotiations with the banking industry to bring basic bank accounts up to scratch, nine high street banks and building societies covering over 90% of the UK current account market have agreed to offer a better deal to customers.
The changes will minimise the risk that basic bank account customers will be forced into overdraft by fees or charges.
In some cases, charges had been as high as £35 per failed item, and uncapped, meaning charges could accumulate to hundreds of pounds over time and drive people into serious debt.
Basic bank account customers will now also be offered services on the same terms as other personal current accounts that the banks provides, including access to all the standard over-the-counter services at bank branches and at the Post Office, access to the entire ATM network.
There are an estimated 9m users of basic bank accounts in the UK.
This deal comes on top of the estimated £300 million cost to the banking industry of providing basic bank accounts today. It is vital that banks offer products which are suitable for day-to-day transactions for all consumers.
The Economic Secretary Andrea Leadsom today met Toynbee Hall's specialist financial advisers and people who may have found it difficult to access mainstream banking services in the past, to discuss how the new basic bank accounts will make a difference.
Economic Secretary Andrea Leadsom said:
I welcome the banks' agreement to remove these charges from their basic bank accounts.

This means that people who don't have an account, or who would struggle to get a standard account due to money problems, will be able to manage their money with certainty and clarity.

It will end people being effectively locked out of their basic bank accounts due to high fees and charges when their payments failed.

Ending this unfair situation is a real step forward for the banking industry's most vulnerable customers and improving access to banking is a key part of our long-term economic plan.
BBA Chief Executive, Anthony Browne said:
Banks in the UK lead the way when it comes to providing accessible banking and take their responsibility seriously – the proportion of the population with no account at all is less than a third of that in the US and Europe. Now we will be helping even more people access banking services than ever before, as these accounts are designed for people who don't have a bank account today and are vulnerable.

These basic accounts will make it easier for more people to manage their money. They will have many features that will help people to budget, pay bills and save up.

We are delighted to be offering this service to those who will really benefit.
Gillian Guy, Chief Executive of Citizens Advice, said:
"A good bank account is an essential ingredient to managing your money. Any barriers to essential banking services can make it even harder for people keep on top of their finances. Up until now, some basic bank account customers didn't get a debit card, were afraid of being hit with fees for unpaid direct debits and some were shut out of banking altogether.
"Citizens Advice has been at the forefront of the campaign for decent basic bank accounts, and is pleased that the Government and banks have listened to the problems experienced by our clients. We look forward to continuing to work with the Treasury as well as with banks to make sure these new standards meet the needs of customers."
Graham Fisher, Chief Executive of Toynbee Hall, said:
The announcement today to create genuinely accessible and inclusive fee-free bank accounts for the most vulnerable people is a significant step forward in creating a truly financially inclusive society.

At Toynbee Hall we have helped a significant number of clients to set-up new bank accounts, which can at times be a difficult and frustrating process, but with these changes we will be able to help more people access this incredibly valuable financial product.
The terms of the agreement are published today so that every customer knows what they can expect from their bank in future and the new accounts will be in place by the end of 2015.
The terms of the agreement make clear that the accounts should be made available where people are ineligible for a bank's standard current account, and either:
have no bank account
have a bank account elsewhere, but want to change provider
have a bank account, but are in financial difficulty and want their bank to open a new, functional account for them
Not all banks will apply these criteria in full – some may choose not to set any eligibility requirements and offer customers a choice from their full range of personal current accounts.
Further information:
Nine banks have agreed to offer basic bank accounts, they are:
Barclays
the Co-operative Bank
HSBC
Lloyds Banking Group (including Halifax and Bank of Scotland brands)
National Australia Group (including Clydesdale and Yorkshire brands)
Nationwide
RBS Group (including NatWest and Ulster Bank brands)
Santander
TSB
Published 15 December 2014
Last updated 7 January 2015
+ show all updates
Updated to include a list of the banks signed-up to the agreement.

First published.