New armour steel showcased at DSEi
A new high-performance armour steel that will be used to protect vehicles on the front line was showcased at the Defence and Security Equipment International (DSEi) event today.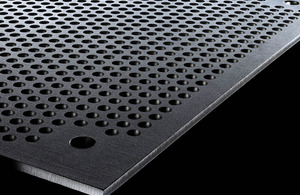 Known as Super Bainite, the new armour steel has been developed to have outstanding ballistics properties and, in tests, it has performed better than 'normal' steel armour.
The Ministry of Defence has signed a licensing agreement with Tata Steel to manufacture the steel in the UK.
The new material was invented and developed in the UK, with production earmarked to take place at Port Talbot in South Wales.
Under the agreement the steel will be turned into seven different items, including perforated armour plates that could be used on future front line armoured vehicles.
Visiting the UK Capability Showcase at DSEi, Minister for Defence Equipment, Support and Technology, Peter Luff, said:
This cutting-edge UK invention and the manufacturing agreement mean that the UK now has its own onshore supply of high-performance armour steel. Super Bainite has both military and civilian applications, providing Tata Steel with important export opportunities.

The application of new, battle-winning technologies is what gives our troops the edge. This demonstrates, once again, that investing in research and development, in partnership with industry, means that our troops can have the latest innovations in front line equipment.
Super Bainite was invented by Professor Peter Brown, Defence Science and Technology Laboratory (Dstl), Professor Harry Bhadeshia, Tata Steel Professor of Metallurgy at Cambridge University, and Dr Carlos Garcia-Mateo, previously at Cambridge University and currently at the National Centre for Metallurgical Research in Madrid.
Traditionally, steel is covered with water to get it to room temperature quickly before structural weaknesses can form. But, with Super Bainite, a whole variety of cooling methods, involving air or even molten salt, are used throughout production.
Combining drilling and hole-punching during the cooling process results in a ultra-high-hardness perforated plate.
Professor Brown said:
The ballistic performance of perforated Super Bainite steel armour is at least twice that of conventional rolled homogenous steel armour. This is because the introduction of perforations creates a large number of edges which disrupt the path of incoming projectiles, significantly reducing their potency.
Dstl owns the patents relating to the chemical composition and processing of Super Bainite. The licence agreement was signed by Ploughshare Innovations and Tata Steel and allows Tata Steel to manufacture and process Super Bainite in the UK and in Europe and to export it globally.
Dr Paul Davies of Tata Steel hopes defence equipment manufacturers, especially armour systems specialists, will recognise the steel's potential for applique up-armouring applications. He said:
Tata Steel has spent significant effort developing this unique product and we are delighted with its performance. We have outlined our market strategy.

Tata Steel is well positioned to support the market, both in the UK and across the remainder of European markets, by exercising existing infrastructure to produce and process the material for future customers.
Published 14 September 2011