New appointments to the independent police complaints commission announced
New commissioners have been appointed to the independent police complaints commission (IPCC), the home office announced today.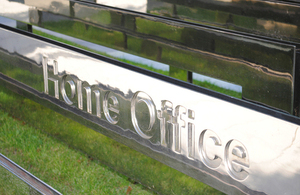 Cindy Butts, Derrick Campbell, Mary Cunneen, James Dipple-Johnstone and Jennifer Izekor have been appointed to the IPCC for an initial four year term. They will take up their posts between now and early January.
Their roles will be to ensure the IPCC meets its statutory obligations in overseeing the police complaints system, maintaining an effective and efficient oversight system and raising public confidence in the IPCC's work.
A home office spokesperson said:
'We are pleased to announce these appointments to the IPCC. The five new commissioners will play a vital role in the commission's work to build public confidence in the police complaints system.'
IPCC commissioners are public appointments, made entirely on merit and in accordance with the code of practice issued by the office of commissioner for public apointments (OCPA).
Notes to editors
Mary Cunneenwas previously a senior lawyer at the equality and human rights commission.
2. Jennifer Izekor has specialised in services for young people, learning and skills during her career. Between 2009 and 2012 she was a member of the youth justice board.
3. Cindy Butts was previously an independent member of the metropolitan police authority. She has also been chair of the crown prosecution service hate crime scrutiny panel in London.
4. James Dipple-Johnstone is currently director of investigations at the office of the parliamentary and health service ombudsman.
5. Derrick Campbell is currently chief executive of the rights and equality and community cohesion council and before that was CEO of Sandwell chamber of commerce.
Published 5 November 2012