Press release
New appointments to the Advisory Council on the Misuse of Drugs
Four new appointments to the council have been announced today by James Brokenshire, Minister for Crime Prevention.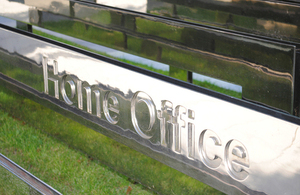 The new appointees are: 
Dr Roger Brimblecombe, pharmacologist and a former holder of a number of senior positions in the pharmaceutical industry
Professor Raymond Hill, neuropharmacologist and a former holder of senior positions in the pharmaceutical industry, current president of the British Pharmacological Society and a member of the Nuffield Council on Bioethics
Mr Graham Parsons, Pharmacist with Special Interest (Substance Misuse), NHS Plymouth
Dr Jason Aldiss, veterinary scientist, specialising in public health including veterinary medicines
Home Office minister's statement
James Brokenshire said: 
'I welcome these new members to the Advisory Council on the Misuse of Drugs and look forward to working with them over the forthcoming years. 
'This coalition government recognises the range of expertise in the ACMD and the valuable role it has to play in informing Government drug policy.'
Notes to editors
The three-year appointments attract no remuneration and have been made in accordance with the code of practice of the commissioner for public appointments.
The ACMD was established under the Misuse of Drugs Act 1971. It is the duty of the ACMD to keep drugs misuse, in the United Kingdom, under review and to advise the Government on measures for preventing misuse and social problems arising from it.
Professor Les Iversen is interim chair of the ACMD. Members are appointed on an individual basis and not as representatives of the organisations for whom they work. 
All appointments are made on merit and political activity plays no part in the selection process.  However, in accordance with the original Nolan recommendations, there is a requirement for appointees' political activity (if any declared) to be made public.  Dr Jason Aldiss declared political activity for the Conservative Party.
Dr Roger Brimblecombe declared holding another Ministerial appointment, as a Non-Executive Director of the '2gether NHS Foundation Trust for Gloucestershire'. This is a remunerated (£12,288 pa) appointment.
More information about the ACMD.
The current list of ACMD members
For further information contact Nick Logan on 020 7035 3535.
Published 30 June 2010