News story
New appointments to Civil Procedure Rule Committee
The Lord Chancellor has appointed 3 new members to the Civil Procedure Rule Committee (CPRC).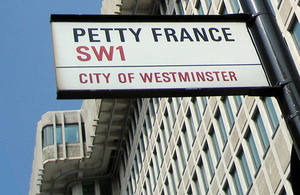 The Civil Procedure Rule Committee (CPRC) is a non-departmental public body which makes rules of court for the Civil Division of the Court of Appeal, the High Court and the County Court.
The Lord Chancellor, in consultation with the Master of the Rolls, has appointed John Dagnall as barrister member and Brett Dixon and Masood Ahmed as solicitor members of the Committee.
Mr Ahmed is a qualified non-practising solicitor at an international commercial law firm and focuses on dispute resolution and commercial transactional work. Much of his work involves advising clients on high value and complex disputes in the Commercial Court and international commercial arbitration. He is currently a lecturer at the School of Law, University of Leicester.
Mr Dixon currently works as a personal injury solicitor dealing with high value and employer liability cases. He is currently an executive committee member of the Association of Personal Injury Lawyers.
Mr Dagnall has been practicing in civil law since 1985 and sits as a Deputy District Judge (Civil) in the County Courts. He is also an accredited mediator and has served on the Chancery sub-committee of the Rules of the Supreme Court Procedure Committee.
All of the appointments are from 11 January 2016 and are for 3 years.
Published 11 January 2016