Press release
New appointments announced to DECC
Ministers today approved the appointment of Robert Spedding to the Coal Authority, and announced the selection of the first Electricity Market Reform Panel of Technical Experts.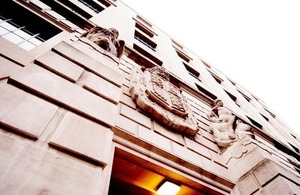 Press Notice: 13/017
Ministers today approved the appointment of Robert Spedding to the Coal Authority, and announced the selection of the first Electricity Market Reform Panel of Technical Experts.
The panel will provide independent scrutiny of the analysis which will inform the Government's first Electricity Market Reform Delivery Plan.
Secretary of State Edward Davey said:
"The experts that we have on this panel will help us to ensure the analysis that informs the EMR delivery plan is as robust as possible, allowing us to achieve our ambitions and ensure value-for-money for taxpayers".
Robert Spedding has been appointed for three years as a Non-Executive Board member and Chair of the Audit Committee at the Coal Authority.
Mr Spedding, former Head of Advisory Risk Management for KPMG Europe LLP and currently Chair of the Audit Committee for The Law Society, takes over from Stephen Dingle who was appointed as Chair of the Coal Authority at the end of last year and takes up post on 1st April 2013.
Energy Minister John Hayes said:
"With a wealth of audit and risk management experience across both the public and private sectors from his time with KPMG, Bob Spedding will bring fresh insights and experience to the Coal Authority's Board."
Notes for Editors
The first EMR delivery plan will be published in draft form in July 2013 for a public consultation and in final form by the end of 2013 (subject to Royal Assent of the Energy Bill). It will contain Government's decisions on the strike prices that renewable technologies could attain with a Contract for Difference.
The EMR Panel of Technical Experts were appointed through an open and competitive procurement process run by DECC officals, for which the tender closed on 26 November 2012.
Mr Spedding's appointment has been made in accordance with the requirements of the Commissioner for Public Appointments. Mr Spedding's appointment is for a three year period and he will assume office on 1 April 2013. He will receive a remuneration of £11,666 per annum. Mr Spedding holds no other ministerial appointments. He has not undertaken any political activity. Mr Spedding joined KPMG in 1975 and was made a partner in 1987. He retired in 2011. Whilst at KPMG he worked with a wide range of organisations both in the private and public sector. In 2005 he became Head of Risk Management for UK Advisory business at KPMG and subsequently became Head of Advisory Risk Management for KPMG Europe LLP. Mr Spedding has been a member of the Audit Committee for The Law Society since 2008 and was selected as Chair in 2010.
The Coal Authority was established by Parliament in 1994 with specific statutory responsibilities associated with: licensing coal mining operations in the UK, handling coal mining subsidence damage claims, property and historic liability issues, such as treatment of minewater discharges, providing public access to information on past and present coal mining operations and the provision of emergency call-out service for reported surface hazards.
The members of the EMR Panel of Technical Experts are:

Dr Norma Wood - Chair - Dr Norma Wood is a seasoned International Board Director and recognised authority on business/commercial transformation, financial restructuring, investment appraisal and supply chain renovation in the public and private sector. Norma has transformed vision into practical reality for Senior Stakeholders and Executive Boards in Government Departments and Financial Institutions, Oil and Electricity Utilities, Global Airlines, Professional Services, Global Electronics and Construction. Norma has been intimately involved with electricity trading arrangements since she led the Strategic Review of Trading and Settlement Arrangements post privatisation. With a doctorate in econometric modelling and stochastic processes, she recently led the Diagnostic Review of the suit of decision-support models for the Director of Submarines in the Ministry of Defence. As a forensic expert, Norma provides fiscal assurance to the UK Treasury as an OGC Non-Executive Director / SRO Mentor, Executive Support Services Director, Senior Commercial Advisor and Major Project Review Team Leader. She is a Scrutineer and Forensic witness for the MOD and ONS.
Andris Bankovskis - Andris has 25 years' experience in electricity generation, supply and regulation. He held roles in large power companies in reactor physics, generation plant performance, procuring uranium, managing private sector nuclear liabilities, developing new arrangements for the trading of electricity in Scotland, M&A due diligence, analysing fuel mix options for Ireland and trading renewable energy. Andris holds degrees in physics and law and an MBA.
Dr Guy Doyle- Dr Doyle is Chief Economist, Energy and Carbon at Mott MacDonald and has 32 years' experience of forecasting and analysing world energy markets. Guy has led Mott's work on generation costing and long term power sector trends for DECC and Committee on Climate Change, after undertaking similar work in other jurisdictions. His positions prior to joining Motts, include running Power Ink, an electricity consultancy firm, founder and editor of Power UK, Consultancy director at McCloskey Coal, Chief Economist of IEA Coal Research, and energy forecasting manager at Global Insight. Guy holds a Phd in Energy Economics and a Masters in Natural Resource Economics.
Professor David Newbery - Professor David Newbery, CBE, FBA, is a Research Fellow in the Control and Power Research Group at Imperial College London, a Director of the Cambridge Electricity Policy Research Group and Emeritus Professor of Applied Economics at the University of Cambridge. Occasional economic advisor to Ofgem, Ofwat, and ORR, former member of the Competition Commission and chairman of the Dutch Electricity Market Surveillance Committee, currently member of Ofgem's Low Carbon Network Fund and the Deputy Independent Member of the Single Electricity Market of Ireland.
Published 22 February 2013